business
May Pledges to Put U.K. First in Trade-Deal Talks With Trump
By
Premier will be first foreign leader to visit White House

Trump's team already preparing for quick free-trade agreement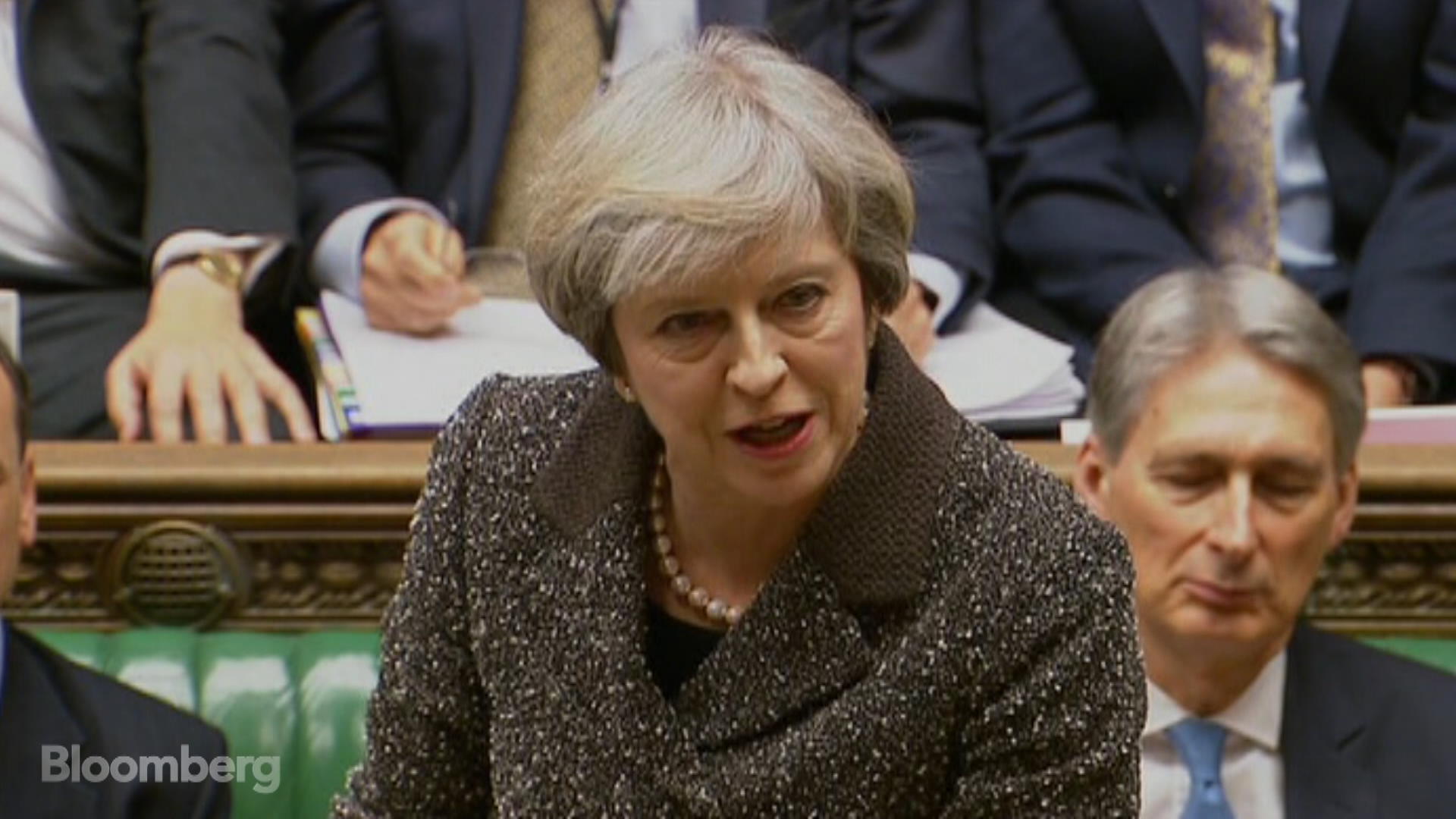 Prime Minister Theresa May promised to put Britain first in trade talks with U.S. President Donald Trump this week, as she seeks to give the U.K. a leading role in world commerce after Brexit.
The premier echoed Trump's "America First" slogan in comments to lawmakers in Parliament in London on Wednesday, after she was challenged over the detail of the proposed new U.S.-U.K. free-trade agreement.
"We will be looking for a U.S.-U.K. trade deal that improves trade between our two countries, that will bring prosperity and growth to this country, that will ensure that we can bring jobs to this country as well," May said. "In doing that, we will put U.K. interests and U.K. values first."
The premier flies to the U.S. on Thursday and will be the first foreign leader to meet the new president in the White House on Friday. May's team is keen to secure a trade deal with the U.S. to bolster exports as the country prepares to leave the European Union. She said last week she wants the U.K. to become the global champion of free trade and to strike deals with countries around the world after Brexit.
Both sides have encouraged comparisons with the special friendship that grew between former British Prime Minister Margaret Thatcher and President Ronald Reagan. Trump has said he sees the relationship with May as potentially close and valuable.
The Trump administration is already putting in place the building blocks for an agreement, and his team has signaled a desire for a quick deal.
'Signature-Ready'
The U.K. is legally barred from signing new trade deals with countries outside the European Union while it remains a member of the bloc, though ministers plan to hold discussions -- and even formal negotiations -- before Brexit. Pro-Brexit lawmaker Michael Gove, who interviewed Trump this month for The Times of London, said the president wants the deal to be "signature-ready" for the day the U.K. leaves the EU, scheduled for 2019.
"It's very simple, we want to achieve an arrangement that ensures that the interests of the United Kingdom are there, and are put first, and that's what I will be doing," May told the House of Commons during her weekly question-and-answer session.
May was also asked by former opposition Labour Party leader Ed Miliband if she'll press Trump not to pull the U.S. out of the Paris agreement to limit global warming and to provide British scientists to convince the president that climate change is "not a hoax" created by China.
"I would hope that all parties will continue to ensure that the climate-change agreement is put into practice," May replied.
— With assistance by Thomas Penny
Before it's here, it's on the Bloomberg Terminal.
LEARN MORE