business
May Gives In to U.K. Lawmakers' Demands to Publish Brexit Plan
By , , and
Premier makes pledge in weekly questions session in Commons

Pound climbs above $1.26 for first time since Dec. 14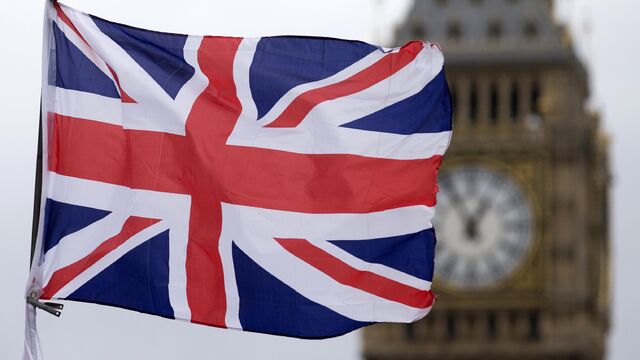 U.K. Prime Minister Theresa May said she'll publish her plan for Brexit, giving in to demands from lawmakers seeking greater scrutiny in Parliament.
The government will publish a so-called white paper to allow proper debate of the strategy May outlined in a speech last week, the premier told lawmakers in Parliament on Wednesday.

"I have been clear, as have senior ministers, that we'll ensure Parliament has every opportunity to provide scrutiny," May said. "I recognize there's an appetite to see that plan set out in a white paper. I can confirm to the house that our plan will be set out in a white paper published to this house."
May's climbdown, a day after Brexit Secretary David Davis pushed back against demands for a published plan, will allow lawmakers to better hold her to account for promises such as her pledge to deliver a sweeping post-Brexit trade deal with the EU. A white paper could limit her room to maneuver in the talks even if lawmakers prove unable to use their new-found strength to soften her strategy.
The pound extended an advance after May's announcement, climbing through $1.26 for the first time since Dec. 14.
"The PM has listened & has agreed to #WhitePaper on #Brexit -- it's part of building a consensus & healing #Brexit wounds," former Business Minister Anna Soubry said on Twitter after May's turnaround.
United With Labour
Soubry was one of at least six Conservative legislators, including five former ministers, who united with the main opposition Labour Party on Tuesday to explicitly demand a white paper. On Wednesday, Bill Cash, a Tory who campaigned for Brexit, also said he expected the government to publish a plan, telling Davis in a letter that "many" members of Parliament "expected" one.
May has sought to bypass Parliament in triggering Brexit, appealing against a High Court ruling that required her to seek a vote among lawmakers before invoking Article 50 of the EU's Lisbon Treaty, the formal mechanism for beginning the divorce. She lost that appeal on Tuesday, and Davis said hours later he's preparing a "straightforward" bill to trigger Brexit, with reports suggesting the legislation could come as soon as Thursday.
The government wants to rush the legislation through Parliament before its self-imposed deadline to begin exit talks by the end of March. Already, the Labour Party, the Liberal Democrats and the Scottish National Party have said they'll seek to amend the bill, with the SNP promising 50 amendments. Amendments must be accepted by Speaker of the House John Bercow before they can be debated and voted upon.
'Meaningful' Vote
Labour, the main opposition, will try to re-write the bill to force the publishing of a formal plan, the party's Brexit spokesman, Keir Starmer, told lawmakers yesterday. He said he also wanted to require May to report back to lawmakers regularly and to give them a meaningful, binding vote on the final deal she strikes with the EU.
"We will be seeking to lay amendments to ensure proper scrutiny and accountability throughout the process," Starmer said.
May said Wednesday that Britain would "fall back on other arrangements" if Parliament rejects the deal she negotiates.
The white paper is likely to be debated separately from the bill to trigger Brexit. With May having a slim working majority in the Commons of just 16, it would take only a small rebellion from her own side for her to lose a vote on the issue. That could serve as a reminder that her control of Brexit and indeed power could prove tenuous as the exit talks progress.
Even so, many lawmakers, even those who backed Remain in last year's referendum, don't want to be seen to be blocking the verdict of the electorate, which voted by 52 percent to 48 percent for Brexit.
"The political climate at Westminster is very reluctant to be perceived as blocking Brexit in any way," Matt Cole, a teaching fellow at the University of Birmingham, said in a phone interview. "Theresa May's commitment of the end of March has now been set as the test of that willingness to accept Brexit."
— With assistance by Svenja O'Donnell, Thomas Penny, and David Goodman
(
Adds pound, Soubry comment starting in fifth paragraph.
)
Before it's here, it's on the Bloomberg Terminal.
LEARN MORE