Looming Debt Limit Divides Trump's Treasury and Budget Chiefs
By
Pair faces test as debt ceiling suspension expires on March 16

Cabinet picks appear to differ on threat of government default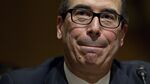 The two people President Donald Trump has chosen to manage the federal budget appear to be at odds over how to tackle their first assignment: handling the debt limit.
Treasury Secretary nominee Steven Mnuchin and Trump's choice to head the Office of Management and Budget, Mick Mulvaney, face their first joint test in the run-up to March 16, when debt-limit suspension period expires. Failure to agree means investors in the world's deepest debt market may grow uneasy about the potential of a U.S. default.
The debt limit is a favorite bargaining chip of Republicans who are concerned about the nation's finances, which could worsen as Trump breaks with the party's fiscal hawks in pushing tax cuts and more spending.
A co-founder of the conservative House Freedom Caucus, Mulvaney used his vote on the debt ceiling to push President Barack Obama's administration for spending cuts, and the incoming OMB director recently downplayed the dangers of defaulting. That puts him out of sync with Mnuchin, who has cautioned against playing politics with the country's debt.
Read more on how the debt ceiling has been used as a cudgel
"Honoring the full faith and credit of our outstanding debt is a critical commitment," Mnuchin said in written replies to senators' questions for his nomination process. "My responsibility as secretary would be to pursue all means available to the Treasury to meet this commitment, including historic extraordinary measures that have been employed by necessity in the past."
A crisis isn't imminent. The Treasury Department can use extraordinary accounting measures to stay below the ceiling, possibly until the second half of this year.
Next Debate
For bond investors, Mnuchin's words are an emollient amid the uncertainty of a new administration. He has also noted the importance of paying all debtors instead of prioritizing debt, as some have suggested, which entails honoring only some financial commitments on time. During the campaign, Trump said that if the economy were in a prolonged slump, he might push creditors to accept write downs on their government holdings. Trump later said the U.S. would never default.
If Mulvaney is confirmed as OMB director, the next debt-limit debate could include a fight over whether future spending should be cut to shrink the budget deficit, which the Congressional Budget Office forecasts will exceed $1 trillion in 2024. Mulvaney's concerns over spending could conflict with Trump's promise for a $500 billion bump in infrastructure investment and a boost to the military.

Handled incorrectly and the administration could see a repeat of 2011, when bond yields surged and S&P Global Ratings downgraded the nation's credit rating after Republican lawmakers initially resisted the urging of Obama's government to raise the debt ceiling. Republican control of Congress and the White House suggests lawmakers could be more cooperative this year.
Former Treasury Secretary Jacob J. Lew cautioned against using the debt limit as a tool to change fiscal policy, writing in an article published this month that Congress's threat to force the government into default is dangerous.
"The responsible course for the new Congress would be to raise the debt limit without drama" or brinkmanship, he wrote in the Harvard Journal on Legislation.
Spokesmen for Mulvaney and Mnuchin didn't immediately respond to requests for comment on the debt limit.
While Mulvaney said during his Senate confirmation hearing that debt-ceiling debates have been used to spur legislation to reduce the deficit, he added that he wouldn't recommend Trump govern "by crisis." Still, he played down the threat of a failure to raise the debt limit and did not back off previous support for prioritizing payments once the debt ceiling is reached. Mulvaney told the committee Tuesday that he is not privy to Trump's budget planning documents yet.
"I do believe that defaulting on America's debts would have grave worldwide economic consequences," Mulvaney said in a written response to senators. "I do not believe that breaching the debt ceiling will automatically or inevitably lead to that result."
— With assistance by Erik Wasson, and Austin Weinstein
Before it's here, it's on the Bloomberg Terminal.
LEARN MORE