Italian Prosecutors Probe $666 Million BT Accounting Fiasco
By and
Probe includes allegations of false accounting, embezzlement

Milan prosecutor Fabio De Pasquale speaks in interview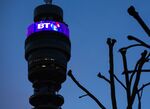 Prosecutors in Milan have opened a criminal probe into allegations of false accounting and embezzlement at BT Group Plc, following disclosure of a 530 million-pound ($666 million) writedown over an accounting scandal at the telecommunications company's Italian unit.
The investigation isn't focused on any specific individual at this time, prosecutor Fabio De Pasquale said in a brief interview on Wednesday. A spokesman for BT declined to comment.
BT lost 7.9 billion pounds in market value on Tuesday after saying it found "inappropriate behavior" and "improper accounting practices" going back several years at its Italian business, and lowering its profit outlook. The scale of the writedown -- more than triple the original 145 million-pound estimate when it first discussed an internal probe in October -- means a business BT previously thought was profitable had long been losing money.
The Italy business has caused an outsized headache for BT, given it represented just 1 percent of earnings before interest, taxes, depreciation and amortization last year. BT will be keen to put the issues in the country to bed, after underestimating the scope of the accounting problems when they were first disclosed last October.
"As management they're not going to get a second chance on this," said Tom Gidley-Kitchin, senior analyst at Charles Stanley Group Plc in London, which owns BT shares. "A concern is that the Italian business was really quite a small part of global BT, but has had quite a large impact on the overall balance sheet."

BT Italia employs about 1,200 people and generates about 800 million euros ($857 million) in annual revenue, according to a person with knowledge of the matter. Its biggest clients include Eni SpA, Fiat Chrysler Automobiles NV, Mediaset SpA and BNP Paribas SA's BNL, the person said.
Reuters reported on the investigation earlier.
Profit Warning
The former British telecommunications monopoly also reduced its earnings outlook for this year and next on weaker-than-expected business from U.K. government clients and international corporate customers.
The profit warning and mess in Italy marked the first significant stumble for Chief Executive Officer Gavin Patterson, who took the helm in 2013 and has been successful at growing the company's consumer businesses. The reduced outlook squeezes BT at a time when Patterson has rival demands for the company's cash, including growing competition for content rights such as Champions League soccer.
Italy can be a growth market, Patterson said Tuesday on a conference call. "It's going to need a lot of work," he said. "We've put new management into that, but we believe it is better that we address that at this stage, because we do think there is value there."
Bloomberg News reported in September that BT had suspended two top executives, BT Italia CEO Gianluca Cimini and Chief Operating Officer Stefania Truzzoli. Those executives have since left the company, and a new, unidentified CEO is set to take over. Reuters reported on Wednesday that Luis Alvarez, the head of the global services division, would take direct responsibility for the European business.
Some analysts have suggested that BT might benefit from selling the global services unit, or at least exit Italy.
"It's probably very early to say whether they want to remain permanently in Italy, if they do how they recover the business, especially if they work out that profitability has been overstated for quite a few years and it isn't the business they thought," said Guy Peddy, an analyst at Macquarie Bank Ltd. in London.
— With assistance by John Ainger
Before it's here, it's on the Bloomberg Terminal.
LEARN MORE