Former Finance Chief Pledges Softer Touch in Bid to Run Hong Kong
By and
'People are really tired of the discord we have had': Tsang

Former finance secretary speaks in interview on Wednesday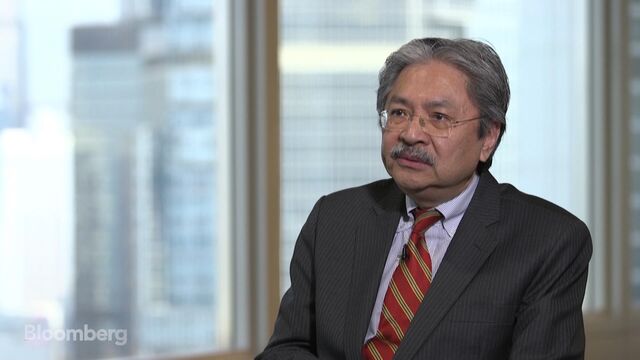 Hong Kong's former financial chief John Tsang, who is vying for the city's top job, said his ability to reach out across political divides make him better suited to run the Asian financial hub than his ex-boss or chief rival.
Tsang, 65, resigned as finance secretary last month to prepare his bid to succeed Leung Chun-ying, whose hard-line approach to groups seeking greater democracy has been blamed for inflaming tensions in the former British colony. Tsang's main opponent is Carrie Lam, 59, who quit as the city's No. 2 official this month to pursue her bid.

"People are really tired of the discord we have had," Tsang said in an interview in Hong Kong on Wednesday. "We want to bring about a more harmonious society. We need to build consensus rather than a confrontational position."
Tsang is seeking to differentiate himself among leading candidates for the March vote whose stated policies don't vary drastically. Surging property prices and living costs are constant sources of concern among Hong Kong's 7.3 million people, while a growing polarization among China proponents and pro-democracy groups has triggered street protests in recent years.
"It's hard to say what he did wrong," Tsang said of Leung, who announced in December that he wouldn't seek a second term due to family reasons. While many of Leung's policies were "not bad," Tsang said, "the fact is there has been discord in the community. I think what we need is to embrace inclusiveness."
Lam would "carry on the policies, the practice of the current administration," Tsang said. "I would bring about more inclusiveness in our community. I will bring about more participation from different sectors of the society. More than she would."
Leung's office had no comment. Tai Keen-man, a media official with Lam's campaign, said by e-mail that she has "stressed that the government should listen to the people, whose collective wisdom is invaluable, and should build a more inclusive society by striving for greater consensus."
Opposition lawmaker Dennis Kwok said Tsang has better ties with pro-democracy advocates than Lam, whose interactions were "definitely icy."
Read more: Hong Kong's fight for democracy
"The advantage of John Tsang is that he has a much better relationship with us and would be able to unite at least the moderates much easier," Kwok said. "Politicians need to stop seeing each other as Satan or the devil. It just doesn't work. You have to understand there are political differences and you are both trying to make Hong Kong a better place."
Tsang said top priorities would include creating a new education department run by professionals and making housing more affordable -- a persistent headache for Leung despite taxes and mortgage caps introduced under his administration. Tsang said he would focus on large-scale land reclamation and redeveloping the city's aging housing, while avoiding moves to build on country parks as proposed by Leung this week.
Hong Kong's next leader will have to advise Beijing on how to achieve its policy goals for the city without being perceived as encroaching on the autonomy guaranteed under the "one country, two systems" framework set up when the British exited in 1997. The chief executive will be selected by a committee of 1,200 electors dominated by Beijing loyalists. Other candidates include lawmaker Regina Ip, 66, a former security minister, and former judge Woo Kwok-hing.
Beijing's Trust
"There's no reason to believe I'm not trusted by Beijing," Tsang said, who had to wait more than a month for central government authorities to approve his resignation and clear his candidacy, which has been interpreted as a sign that they aren't backing his campaign. Lam's resignation was accepted within a week, fueling perceptions she's Beijing's pick for the job. Whoever wins will be subject to China's veto.

Tsang, who served as finance secretary from 2007, has long enjoyed the highest approval rating among the city's top officials. A survey commissioned by Hong Kong Economic Journal and conducted by the Chinese University of Hong Kong found that 33.5 percent supported Tsang and 30.9 percent backed Lam. The others had less than 10 percent.
Tsang said he'd look at political reform, a tricky subject since the 2014 Occupy Central protests that brought parts of the city to a halt for nearly 80 days. Demonstrators objected to a model giving Hong Kong people the right to vote -- but only for candidates vetted by a Beijing-dominated election committee.
"People in Hong Kong aspire to universal suffrage," Tsang said. "And this is something that we need to work on."
Even so, Tsang said it was pointless to discuss independence, a movement critics of Leung say gained traction in part because he moved aggressively against its proponents.
"Hong Kong independence is really a non-issue," Tsang said. "This is not something that is conceivable. People talking about it is really sort of out of tune."
Before it's here, it's on the Bloomberg Terminal.
LEARN MORE