Trump's Trade Stance Will Boost Business in EU, Guindos Says
By and
Minister says tougher U.S. trade approach opens opportunities

Guindos says dollar exchange rate will serve as market test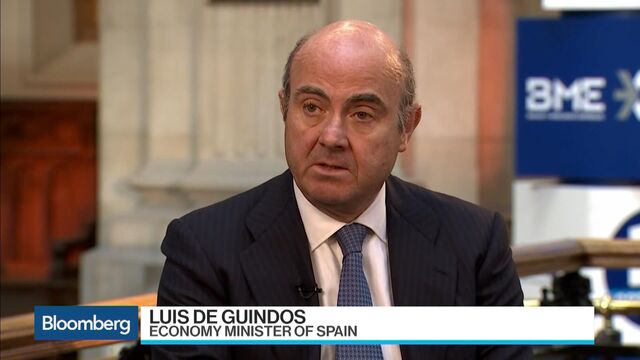 Spanish Economy Minister Luis de Guindos said the European Union is well placed to take advantage if U.S. President Donald Trump makes good on his protectionist rhetoric.
EU economies may pick up additional foreign investment and win extra business if the Trump administration decides to put up barriers to trade with the rest of the world, de Guindos said in an interview with Bloomberg in Madrid.
"If the American administration adapts a very tough stance with respect to trade and protectionism, I think that Europe can take advantage of that situation," de Guindos said. "Europe is a space of free trade, it's a space that can offer important opportunities for investment and this is an opportunity that we'll have to try to seize."
Policy makers around the world are watching to see how far the new U.S. leader is prepared to go to deliver on his campaign promises after declaring in his inaugural address that "protection will lead to great prosperity and strength." The president is due to unveil his plans for building a wall on the border with Mexico later on Wednesday.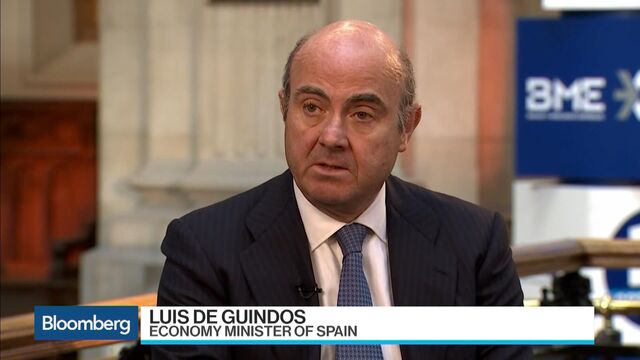 Strong Dollar
De Guindos said that it would be prudent to wait to judge Trump on his actions and that everyone he speaks to at meetings of Group of 20 finance officials is scared of the consequences of a potential trade war.
Despite the tougher approach to global trade from the new U.S. administration, the prospect of tax cuts and deregulation in the U.S. saw the Dow Jones Industrial Average reach a record high last week while the dollar rose to its highest level in more than a decade against a basket of 10 major currencies at the beginning of the year.
Trump's nominee for Treasury Secretary, Steven Mnuchin, said earlier this month an "excessively" strong dollar could have have negative short-term implications on the U.S. economy.
"In the short term a very strong dollar might have negative effects on some parts of the U.S economy, even despite the fact that the U.S. is a very closed economy," de Guindos said. "When you look at the evolution of the dollar over the last three, four months, I can understand the concerns expressed by some people responsible in the new U.S. administration."
Before it's here, it's on the Bloomberg Terminal.
LEARN MORE