Goldman's Cohn Filing Gives Clue to Blankfein's Likely Pay Award
by
Cohn's compensation signals $22 million award for CEO

Revenue fell 9.5% in 2016, though shares surged after election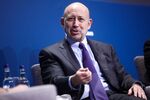 If history is any guide, Lloyd Blankfein's compensation package for running Goldman Sachs Group Inc. last year was $22 million, not counting his long-term incentive.
The investment bank won't disclose the chief executive officer's package until the proxy statement is filed, but the figure can be gleaned from filings this week showing that pay for former President Gary Cohn, who left to join the Trump administration, was $20 million. Cohn's and Blankfein's awards have moved in lockstep since 2012, always keeping a $2 million distance between the two, and a person familiar with the matter said it's unlikely that changed in 2016. The CEO's comparable figure for 2015 was $23 million.
In keeping with past years, the package probably consisted of $2 million in salary and $20 million in the form of a cash bonus and equity awards. The total doesn't include a long-term incentive that's typically awarded later in the year and pays out after eight years depending on the company's return on equity and book value per share. The two most recent awards under that plan came with $7 million target values, but can top $20 million if targets are exceeded.
Blankfein, 62, oversaw a 9.5 percent drop in revenue at Goldman Sachs last year, as all four of the company's main business units posted declines. Shares of the company were little changed from a year earlier heading into the Nov. 8 U.S. election, then surged to a 32 percent gain by year-end after Donald Trump's victory. Investors speculated the new administration would usher in economic-stimulus programs and a rollback of regulations seen as obstacles to profit growth at the biggest U.S. banks.
Read more: Cohn's departure unlocks $284 million
Assuming Blankfein receives a long-term incentive award similar to past years, his pay package would exceed Jamie Dimon's. The JPMorgan Chase & Co. CEO got a 3.7 percent pay raise, to $28 million, after revenue at his company increased 3 percent from 2015. Morgan Stanley CEO James Gorman was awarded $22.5 million, a 7.1 percent jump.
Harvey Schwartz, the former Goldman Sachs chief financial officer named as a co-president to replace Cohn last month, typically receives the same compensation as Cohn, which would bring his 2016 package to $20 million.
Michael DuVally, a Goldman Sachs spokesman, declined to comment Wednesday on pay figures for Blankfein or Schwartz.
Before it's here, it's on the Bloomberg Terminal.
LEARN MORE