markets
Freshii Said to Sell Shares at Top of Range in Canada IPO
By and
Freshii said to Raise $96 Million in Canadian Health-Food IPO

Restaurant chain said to price shares at C$11.50 each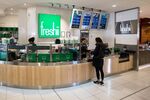 Freshii Inc., the health-food restaurant chain, raised C$125.4 million ($96 million) in the biggest initial public offering in Canada in four months, according to people familiar with the transaction.
The Toronto-based company and its investors sold 10.9 million subordinate voting shares for C$11.50 apiece in its offering, at the high end of its revised range of C$10 to C$11.50 each, said the people, who asked not to be identified because the terms aren't public. The sale gives Freshii a projected market value of C$360 million, based on 31.3 million shares outstanding.
Freshii's IPO is the largest in Canada since Aritzia Inc. raised C$460 million in its September offering. Freshii plans to list on the Toronto Stock Exchange under the ticker symbol FRII.
Freshii initially sought to sell shares for C$8.50 to C$10 each to raise as much as C$109 million for the company and investors including Jaxii Holdings LLC, a firm controlled by Freshii Chairman and Chief Executive Officer Matthew Corrin, according to a Jan. 9 regulatory filing. It raised the price range earlier this week after substantial demand, the people said.
A representative for Freshii declined to comment.
Canadian Imperial Bank of Commerce, Jefferies Securities and Royal Bank of Canada are leading a group of banks on the IPO. The banks have an option to sell an additional 15 percent of the offering after it closes.
Before it's here, it's on the Bloomberg Terminal.
LEARN MORE