French Socialist Candidates Seek Ban on Lawmakers Hiring Family
Gregory Viscusi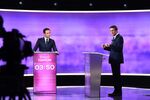 France's two Socialist presidential hopefuls said members of parliament should be barred from hiring family members after the Republican nominee admitted that he employed his wife using public funds.
"It's a law that has now become essential," former Prime Minister Manuel Valls said during a debate Wednesday evening against his former Education Minister Benoit Hamon, who said he also favored a ban. The two men face off in the second round of the Socialist primary this Sunday.
Paris prosecutors said earlier that they opened a preliminary probe into presidential frontrunner Francois Fillon after he confirmed press reports that his wife had worked for years as his parliamentary aide. While lawmakers hiring relatives isn't illegal in France, press reports have raised questions whether Fillon's spouse actually worked for her salary.
Fillon called the revelations "unfounded accusations."
"Fillon has based his campaign on three issues: cutting 500,000 civil service jobs, cutting France's welfare state and his propriety," Valls said. "I think he does have to explain."
Before it's here, it's on the Bloomberg Terminal.
LEARN MORE