French Prosecutor Opens Probe Into Fillons as Election Heats Up
By and
Frontrunner employed wife as parliamentary aide for years

Government spokesman says Fillon must explain himself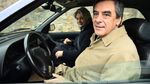 French presidential front-runner Francois Fillon faces a preliminary criminal investigation into the employment of his wife as a parliamentary aide, the prosecutors' office said Wednesday.
With the election campaign gathering pace, the Republican candidate's office confirmed Tuesday that Penelope Fillon did hold that job for a number of years and insisted she kept a low profile, after press reports that she'd been paid without actually doing any work. Fillon's office didn't immediately return calls requesting comment on the investigation.
The controversy is the first major scandal to rock France's 2017 presidential campaign and poses a challenge to Fillon, a candidate who has vaunted his probity as one of his qualifications for office. Rival candidates such as National Front leader Marine Le Pen, facing their own nepotism questions, remained largely silent, leaving it to President Francois Hollande's government to comment.
"Is it legal? Yes, that's the reality of the law," cabinet spokesman and Agriculture Minister Stephane Le Foll said Wednesday. "But any hiring should be linked to an actual job. That's what he needs to explain."
Penelope Fillon held jobs as her husband's parliamentary assistant and as the aide to his one-time replacement as lawmaker, earning a total of 500,000 euros ($536,400) over several years, though she may not have actually worked in that capacity, weekly newspaper Canard Enchaine reported, without citing anyone.
"It is common for lawmakers from both the left and the right to hire their partner as assistants," a spokeswoman for Fillon said in a written statement late Tuesday.
'No Trace'
British-born Penelope worked as Fillon's parliamentary assistant between 1998 and 2002, then for his temporary replacement Marc Joulaud from 2002 to 2007 when Fillon was minister and then briefly prime minister, Le Canard Enchaine said. She also worked as Fillon's assistant at the Paris city council in 2012. The newspaper said that there is "no trace of her activity" as a lawmaker's assistant. The weekly cites a former aide to Joulaud saying he had never worked with Penelope.
Francois Fillon is the current front-runner in the French presidential election that takes place in two rounds on April 23 and May 7. Opinion polls show he is likely to win the second and final round in May against National Front leader Marine Le Pen. He secured the Republican nomination in November.
— With assistance by Gaspard Sebag, and Gregory Viscusi
Before it's here, it's on the Bloomberg Terminal.
LEARN MORE