markets
Dividend Traders Bet Big on Payouts From Generali-Intesa Talks
By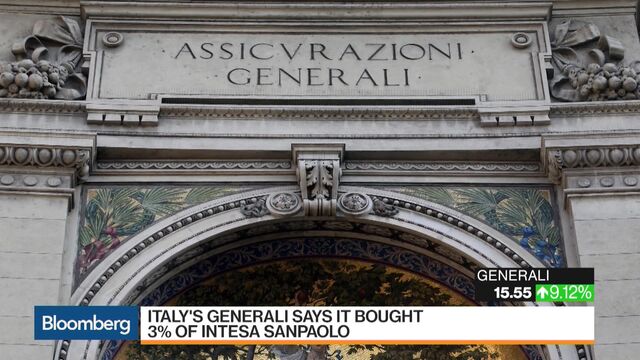 The potential merger of two Italian financial giants is drawing intense interest from dividend traders.
They're betting that a combination of Intesa Sanpaolo SpA and Assicurazioni Generali SpA would bring the payout yield closer to Intesa's, according to Antoine Iskandar, a fund manager at Melanion Capital SAS, which specializes in dividend investing. A contract betting on Generali's dividend payable in 2019 soared 11 percent to a record on Wednesday, with trading volume heading for its busiest since September.

"Dividend traders are buying the news on the merger, hoping for a better payout coming in from the combined entity," Iskandar said from Paris. "Intesa is the acquiring entity, so they would be the ones deciding on dividend policy."
Intesa's shares yield about 1.6 percentage points more than Generali's in dividend terms, data compiled by Bloomberg show. Contracts on Intesa's payout for 2018 traded in Milan slipped 3.2 percent.
Before it's here, it's on the Bloomberg Terminal.
LEARN MORE