Canada Stocks Touch Record, Joining Global Equity Surge
By and
'It seems to be the Trump effect,' Raymond James analyst says

U.S. move on Keystone XL pipeline gives added bounce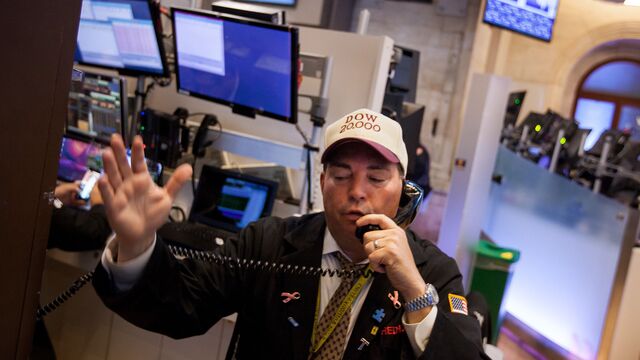 Canadian stocks touched a record, joining a global rally in stocks amid expectations of stronger global growth as U.S. President Donald Trump tries to shift the U.S. economy into higher gear.
The S&P/TSX Composite Index closed up 0.2 percent to 15,643.84 at 4 p.m. in Toronto on Wednesday, after reaching an intraday record of 15,674.3 which topped the closing record of 15,657.63 set on Sept. 3, 2014. The intraday record is 15,685.13 points. The Canadian benchmark surged 18 percent last year, tops among the world's developed markets, and has added 2.3 percent this year.

The Canadian stocks rally follows the Dow Jones Industrial Average surge past 20,000 for the first time, with investors counting on a Trump administration to usher in lower taxes and boost spending on infrastructure, stimulating the U.S. economy. Trump's moves on Tuesday to advance construction of TransCanada Corp.'s Keystone XL pipeline from Alberta's oil sands to the U.S. Gulf Coast has given added vigor to energy stocks.
Trump Effect
"It seems to be the Trump effect," Ian Nakamoto, equity specialist with Raymond James Ltd., which manages about C$34 billion ($26 billion) in assets, said by phone. "He's attempting to grow the U.S. economy. Canada does well when economic growth improves in the U.S. We're more economically sensitive to financial services, materials, and energy. And these are all sectors that have come back to life."
The equity rally also reflects renewed optimism for the Canadian economy as oil and commodity prices rally. Canada created 53,700 jobs in December, shattering economists' forecasts, and the country recorded its first trade surplus in more than two years. Canada is poised to benefit from U.S expansion, driving growth closer to 2 percent in 2017 and 2018, from about 1.3 percent in 2016, according to economists' estimates.
Oil Rebound
Natural resources led the way to the record, with raw-materials and energy the two top industries in the S&P/TSX in the past 12 months with gains of 66 percent and 42 percent respectively. Ivanhoe Mines Ltd., the Vancouver-based metals miner with projects in Africa, is the top stock in the index over that time frame, up more than seven-fold.
Crude prices also remain buoyant after the Organization of the Petroleum Exporting Countries agreed to production cuts on Nov. 30 for the first time in eight years. West Texas Intermediate for March delivery slipped 30 cents, or 0.6 percent, to $52.88 a barrel on the New York Mercantile Exchange, and has gained about 74 percent in the past 12 months.
Oil's rebound puts more than two years of hardship for Canada's oil patch in the rear view mirror, as prices plummeted since 2014 to a trough of C$26.21 last February. The wildfires near Fort McMurray, Alberta, in May also hampered Canada's oil-sands production, weakening the nation's economic output and spreading its impact to other industries, including the lenders.
Keystone Order
Trump's signing of an executive order to advance Keystone, which would ease the flow of Canadian crude to the U.S., has also stoked the energy sector, sending TransCanada's shares up as much as 1.6 percent to a record on Wednesday.
The nation's financial stocks have also been on a tear of late, leading the benchmark gauge with a 12 percent advance in the past three months after posting largely improving earnings at the end of last year. The results show the strength of Canada's banking system, with lenders emerging little scathed from a low oil-price environment.
The market rally has stretched valuations in Canada. The companies in the index trade at a price-to-earnings ratio of about 24, levels not seen since 2001, according to data compiled by Bloomberg. By contrast, the record-setting S&P 500 in the U.S. trades at 21 times earnings.
Brian Belski, chief investment strategist at BMO Capital Markets who a year ago accurately called for a year-end level of 15,300 for the TSX, sees more modest gains in 2017. He calls for the index to end 2017 at 16,000, implying a 4.7 percent gain.
Before it's here, it's on the Bloomberg Terminal.
LEARN MORE