U.S. Stocks Mixed Amid Earnings as Dollar Rebounds: Market Wrap
By
Caterpillar, Ford, Dow Chemical among companies reporting

Gold and bonds extend declines while dollar and copper advance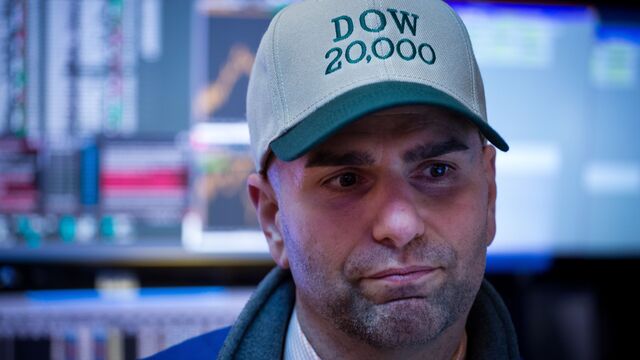 The rally in U.S. stocks stalled Thursday as investors sorted through a raft of corporate results that delivered a mixed picture on the state of the American economy. Mexico's peso slumped as the showdown over a border wall plan intensified, while Treasuries erased losses.
The S&P 500 Index slipped from an all-time high as health-care shares paced losses, while the Dow Jones Industrial Average notched another record. Caterpillar Inc. slumped while EBay Inc. rallied after reporting results. Airlines rallied after Southwest Airlines Co.'s profit topped estimates. The peso extended declines after Mexico's president canceled a meeting with Donald Trump. The dollar strengthened against most major peers, and oil climbed above $53 a barrel. Treasuries rose following a strong auction of seven-year notes. Gold posted its longest slump of the year.

The bullish tone on financial markets eased as the U.S.-Mexico tension threatened one of the world's largest bilateral trading relationships. Equities had rallied to records on speculation his policies would boost growth without destabilizing the global economy. Signs U.S. expansion remained on uneven footing emerged Thursday, as data showed rising bond yields damped home purchases last month, while jobless claims rose more than forecast.
Read our Markets Live blog here.
Here are the main moves in markets:
Stocks
The Dow Jones Industrial Average rose 32.46 points to 20,100.97 at 4 p.m. in New York, after Wednesday closing above 20,000 for the first time.
The S&P 500 Index slipped 0.1 percent at 2,296.70. Earlier, the measure rose past 2,300 for the first time.
Caterpillar fell 1 percent and Ebay jumped 5 percent after presenting an upbeat forecast for 2017. 
Southwest Airlines Co. surged 8.9 percent while JetBlue Airways Corp. slumped 2.6 percent after the carriers released results.
The Stoxx Europe 600 Index climbed 0.3 percent, while Germany's DAX rose to a 20-month high.
Bonds
The yield on the 10-year Treasury slipped one basis points to 2.50 percent after jumping five basis points on Wednesday.
An auction of $28 billion in seven-year notes drew a record amount of buying from indirect bidders, signaling interest from foreign central banks and mutual funds.
Periphery nations led a retreat in European bonds, with yields on Portuguese government debt advancing 14 basis points.
Currencies
The Bloomberg Dollar Spot Index added 0.4 percent, rebounding from a similar decline a day earlier. The measure is headed for a fifth straight weekly decline after rising to the highest in more than a decade.
The pound weakened 0.3 percent to $1.25945 after earlier climbing as much as 0.3 percent after a data release showed the U.K. economy grew faster than economists forecast in the fourth quarter.
The euro slipped 0.5 percent to $1.069.
Commodities
Gold futures fell 0.7 percent to settle at $1,192.50 an ounce in New York. It was the third straight loss for the longest slump since Dec. 22. The metal touched $1,186.60, the lowest for a most-active contract since Jan. 11.
A stronger dollar and equities near record highs lured away investors seeking higher returns. Industrial metals also fell.
West Texas Intermediate crude rose 2 percent to settle at $53.78 a barrel, the highest in almost three weeks as optimism increased that OPEC and other producing nations would adhere to their pledged output cuts.99
Copper for delivery in three months fell 1.6 percent to $2.668 a pound in New York.