business
Your Evening Briefing
Here are today's top stories
Bloomberg News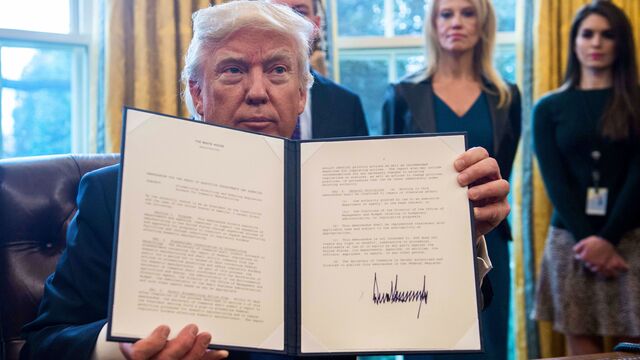 Want to receive this post in your inbox every afternoon? Sign up here.
Good afternoon. 
Trump advanced Keystone and Dakota oil pipelines. President Trump today signed orders advancing the construction of the Keystone XL and Dakota Access pipelines, both of which the Obama administration had halted. The moves illustrate Trump's plan to fulfill his campaign pledge to give the oil industry more freedom to expand infrastructure, create jobs and ease transportation bottlenecks. Environmentalists and activists now face an executive branch that's less sympathetic to their efforts.
Israel approved 2,500 new housing units in the West Bank. The government had shelved settlement plans in the final months of the Obama administration, preferring to wait for a more favorable reception in Washington once Trump took office. Most of the units will be in settlement blocs close to the border that Israel expects to keep in any eventual peace agreement with the Palestinians.
A $90 billion debt wave reveals cracks in the U.S. property boom. It's getting harder for landlords who rely on borrowed cash to find new loans to pay off the old ones. Lenders are choosier about what they'll fund, and rising interest rates and regulatory constraints for banks also increase the odds borrowers will come up short when it's time to refinance.
Immigrants entering the U.S. after 2010 look a lot different than their predecessors. There's been a major shift away from Hispanic immigration; these days, 45 percent are Asian. The job market makeup has changed, too. A greater number of recent immigrants have bachelor's degrees.
This 36-year-old has the president's ear. The biography of Donald Trump's son-in-law, Jared Kushner, mirrors his own: both inherited real-estate businesses from their fathers, both tunneled into Manhattan from its lower-rent periphery (Trump from Queens, Kushner from New Jersey), and neither has government experience.
Lexus can't keep up in the critical luxury SUV category. It was arguably the first automaker to make the luxury SUV essential to suburban households in the late '90s. Today, Luxury SUVs make up the most profitable and strongest segment in the auto market. Yet the 2017 Lexus GX 460 Luxury ($63,380), though not a bad car, just feels irrelevant.
Make these nine reservations in Houston. A lot of things have changed since Houston hosted its first Super Bowl in 1974—not least, the dining scene. Texans still cook a great steak, but now the metropolis, the fourth largest in the U.S., has emerged as one of the country's top restaurant cities. Exemplary cooking runs the gamut from comfort food to fine dining, authentic Mexican fare, and almost every kind of Asian cuisine you can think of.
Before it's here, it's on the Bloomberg Terminal.
LEARN MORE