How One Investor Gains From China's Junk Bond Pain
By and
Higher costs help asset allocation as weaker issuers shut out

Liquidity moves sparked steepest bond rout in almost 10 years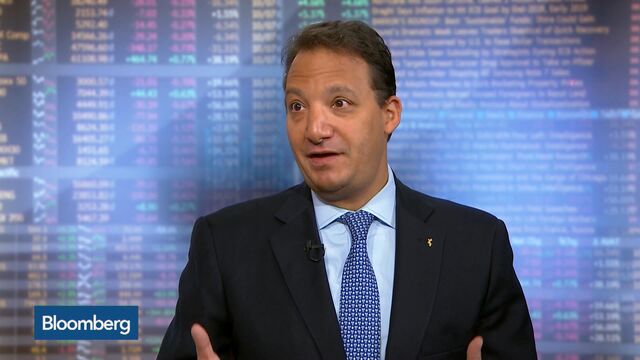 When it comes to the Chinese bond market, one investor is finding a silver lining in the nation's campaign to rein in liquidity.
Junk debt issuers across China are feeling the heat of official efforts to tighten money supply, suffering under the double blow of rising borrowing costs and falling demand. For Bryan Collins, fixed income portfolio manager at Fidelity International in Hong Kong, that's forging a "healthy and necessary" landscape that will help further the development of China's relatively nascent debt capital market.
"Higher funding costs, in lieu of deleveraging, are a good thing because it means for some weaker companies it's getting harder to get funding, which is good for efficient asset allocation," Collins said in an interview.
For most of 2016, cash-rich, yield-hungry Chinese investors rushed to get their hands on debt offerings, sending borrowing costs across the ratings spectrum to record lows. That all changed in December, when the biggest selloff in the corporate bond market in almost a decade was sparked by a crackdown on leverage and concern over trading practices after incidents of alleged fraud.

Yields spiked again Tuesday as the central bank ramped up its efforts, boosting a key one-year lending rate used to manage liquidity ahead of the forthcoming Lunar New Year holidays. Policy makers are increasingly moving to keep a tight rein on leverage in the financial system after a nine-year credit binge swelled China's debt-to-gross domestic product ratio to an estimated 247 percent.
Credit spreads will "diverge" further, according to Collins, with yields on high-quality offerings expected to come down by the end of the year while spreads on junk bonds -- widely defined as those rated AA or lower in China -- will stay high throughout 2017.
Quality Focus
Collins is avoiding riskier borrowers as they face mounting pressure from the need to refinance in the coming years. Instead, Fidelity is focusing on higher quality and longer duration debt, he said.
About 211 billion yuan ($31 billion) of company notes rated AA or lower will mature in 2017, up from 155 billion yuan last year, according to data compiled by Bloomberg.
While the vast majority of companies will be able to redeem their bonds, it will come at a higher price tag, Collins said, adding that some of the weakest issuers may be forced to restructure their debt. There were at least 29 local bond defaults in China last year, more than quadruple the number in 2015.
Stress in the market, though, is "ultimately a healthy and necessary dynamic," Collins said. It's positive "for the overall efficient cost and allocation of capital."
Before it's here, it's on the Bloomberg Terminal.
LEARN MORE