Verizon's Latest Stumble Puts Pressure on Media Makeover
By
Carrier adds fewer monthly wireless customers than expected

Yahoo deal delay, go90 layoffs complicate growth strategy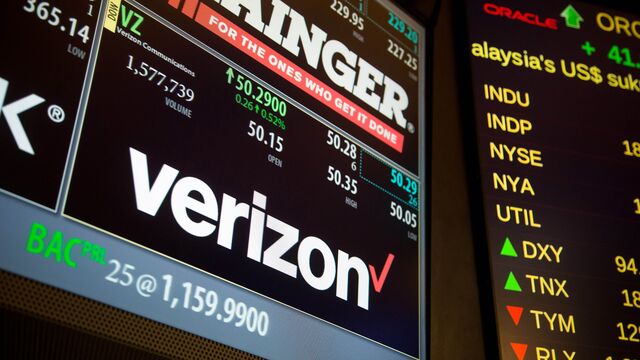 Verizon Communications Inc. continues to face a slowdown in its core wireless business, putting more pressure on the phone giant to show progress in its plan to transform into a media and advertising rival to Facebook and Google.
The nation's largest wireless carrier sacrificed profits in the fourth quarter by cutting prices and offering giveaways like free iPhones, but lured fewer customers than expected. The company added 591,000 subscribers, compared with 1.5 million a year earlier and the 744,056 projected by analysts. By comparison, T-Mobile US Inc. gained 1.2 million in the period.
Shares of Verizon dropped as much as 5 percent to $49.79 in New York, their biggest intraday decline since August 2015. AT&T lost 2.3 percent to $41.05, days after the No. 2 wireless carrier reported adding 500,000 new monthly wireless subscribers in the quarter, fewer than the 526,000 a year earlier. AT&T is scheduled to report full results Wednesday.

Verizon has struggled to find a balance between preserving profits and wooing subscribers in a rapidly maturing wireless market, and is now trying to turn the business in a new direction. Using go90, a short form video service with partners such as Vice and StyleHaul, AOL's web properties and possibly Yahoo! Inc., the company is hoping to collect enough web users to challenge Alphabet Inc.'s Google and Facebook Inc. in the mobile video and advertising market. But holding on to its wireless subscribers are critical to those transformation plans.
"Verizon has moved slowly in response to competitors," said Kevin Roe, an analyst at Roe Equity Research LLC. "The fourth quarter shows they've taken the medicine and made tough choices on pricing."
Though Verizon pitched discounts and promotions over the holiday shopping season, the carrier has refused to follow T-Mobile and Sprint Corp. in offering unlimited data plans -- a popular feature with consumers but a drag on profits. That strategy could change under new Chief Financial Officer Matt Ellis.
"We continue to look at what we need to be competitive in the market. All options are on the table," Ellis said in an interview. "We will get a premium price for a premium service. Our offerings will evolve over time. One thing I'm sure of is that we'll continue to be very competitive and have very good results."
Compounding the challenges, Verizon's efforts to remake itself are off to a rocky start. Go90 hasn't been a blockbuster with viewers. The mobile streaming service cut 155 staff late last week, with the most affected working out of the main go90 office in San Jose, California.
Meanwhile, Yahoo said Monday the sale of its main web operations to Verizon has been delayed until next quarter to meet closing conditions while the company recovers from the disclosure of massive hacks to its user accounts. Verizon is exploring a price cut or possible exit from the pending acquisition that was valued at $4.83 billion when it was announced in July, a person familiar with the matter said in December.
Fourth-quarter earnings, excluding some items, fell to 86 cents a share, the company said in a statement. That missed the 89-cent average of analysts' estimates compiled by Bloomberg.
Sales were $32.3 billion, a 5.6 decrease compared with $34.3 billion a year earlier. Analysts were projecting $32.07 billion.
Verizon added 167,000 phone customers in the fourth quarter, up from a loss of 36,000 in the third quarter.
The carrier added 21,000 FiOS TV subscribers, compared with a gain of 20,000 a year earlier. Analysts estimated 35,000.
The rate of monthly subscriber defections, or churn, was 1.1 percent, compared with 1.04 percent in the third quarter. Analysts were looking for 1.05.
Capital spending for 2017 will be between $16.8 billion to $17.5 billion
Full-year 2017 revenue will be "fairly consistent" with last year, the company said.
Before it's here, it's on the Bloomberg Terminal.
LEARN MORE