U.S. Says Samsung Note 7 Battery Fires Show Weak Safeguards
By and
Consumer-product agency seeks revised industry standards

Samsung and CPSC investigating dozens of mobile phone fires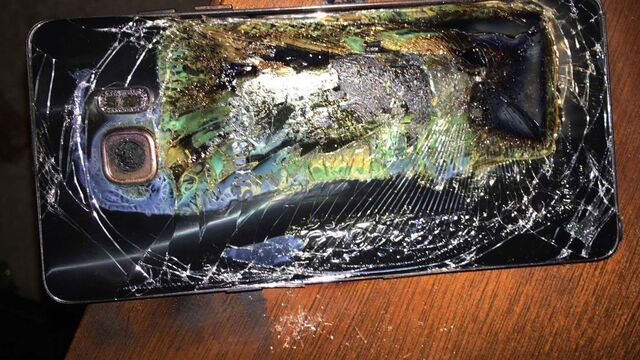 Defects that caused Samsung Electronics Co.'s Note 7 phones to burst into flames last year revealed that the industry's voluntary standards for the design and manufacture of rechargeable batteries aren't adequate, a U.S. consumer-safety regulator has concluded.
The Consumer Product Safety Commission, which negotiated a recall of 1.9 million of the phones and is conducting its own investigation, said Tuesday in a press release that standards for lithium-ion batteries in mobile phones need to be updated.
Those standards were first developed in 2006 and haven't been revised since 2011. The agency and Samsung are working with the industry to "take a fresh look" at the voluntary standard for lithium-ion batteries in smartphones, the commission said.
"Industry needs to learn from this experience and improve consumer safety by putting more safeguards in place during the design and manufacturing stages to ensure that technologies run by lithium-ion batteries deliver their benefits without the serious safety risks," CPSC Chairman Elliot Kaye said in the release.
The CPSC action has broad implications for the worldwide mobile phone industry, which sold 1.98 billion of the devices in 2015, according to Bloomberg Intelligence.
QuickTake Q&A: Samsung's Lithium-Ion Battery Headache
It is also the latest investigation to raise concerns about safety in the increasingly potent lithium-based cells, which have become almost ubiquitous in people's lives, powering everything from smartphones to power tools. In recent years, there have been recalls of so-called hoverboard scooters, the grounding of Boeing Co.'s 787 and a ban on bulk shipments of batteries by passenger airlines as a result of safety concerns.
"Standards need continuous improvement," said Dan Doughty, a consultant on batteries who formerly served as a researcher at Sandia National Laboratories. "It's going to be a constant struggle."
The mobile-phone industry follows battery design guidelines developed by the Institute of Electrical and Electronics Engineers Inc., a nonprofit group that works with industry to develop consensus standards for electrical equipment.
The IEEE guidelines cover design, testing and quality assurance and are designed to limit "battery failure under multiple stresses."
IEEE didn't immediately respond to requests for comment on its work in this area.
While Kaye's statement didn't mention IEEE, it said Samsung plans to share what it learned from its investigation.
Need to Modernize
"Consumers should never have to worry that a battery-powered device might put them, their family or their property at risk," Kaye said. "This is why we need to modernize and improve the safety standards for lithium-ion batteries in consumer electronics and also stay ahead of new power sources that will inevitably come along and replace these."
Samsung deserves credit for sharing its investigation results and offering to assist the industry, a "very rare thing" in the secretive and competitive mobile-phone industry, Doughty said.
That competition is at least part of the reason for the recent failures, according to Jim McGregor, a principal analyst at Tirias Research LLC, which conducts scientific studies for technology companies.
"If you can't ensure 100 percent that the battery is not going to fail, maybe we need to design casing around it," McGregor said. But right now, there isn't casing available that would work in the space-constrained smartphones, he said.
Dozens of Reports
The CPSC reached agreement with Samsung to recall about 1 million Note 7s on Sept. 15, two weeks after the company halted sales of the phones following dozens of reports of them catching fire or exploding. After replacement batteries had similar incidents, the recall was expanded.
As of Oct. 13, there had been 96 reports of Note 7 batteries overheating in the U.S., including 13 in which people were burned and 47 causing property damage, according to CPSC.
The consumer agency praised the efforts of Samsung and wireless carriers to push customers to return the phones. While most U.S. recalls have a "low" consumer response rate, 97 percent of Note 7 phones have been returned, the agency said.
Samsung Investigation
Similar to what the company told the U.S. agency last year, Samsung on Monday released the results of its internal investigation into the failures, concluding that flaws in battery manufacturing and design had led to short-circuits causing the overheating incidents and fires.
The company said on Monday it's focused on learning from its mistakes as it prepares to launch the next model in its Galaxy S line. A spokesman on Tuesday had no immediate comment on the CPSC statement.
Lithium-ion batteries have been a boon to manufacturers of electronic devices because they hold power more efficiently and last longer than other power packs. At the same time, they have periodically raised safety concerns because the chemicals inside are flammable and they hold so much energy that a failure can cause a rapid increase in heat or even an explosion.
Kaye, who was appointed by President Barack Obama and is expected to be replaced as chairman by President Donald Trump, took the opportunity to urge Congress to give the agency more funding.
"We have great people and will do the absolute best job we can with our investigation, but unless Congress finally treats consumer safety as the priority it should be, we will not be able to match what Samsung has done by building a new facility for this purpose and using hundreds of engineers to test hundreds of thousands of phones and batteries," he said.
Before it's here, it's on the Bloomberg Terminal.
LEARN MORE