U.K. Budget Deficit Narrows, Keeping Hammond on Fiscal Target
By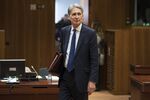 Britain's budget deficit narrowed in December as tax revenue jumped, putting Chancellor of the Exchequer Philip Hammond on course to meet his new fiscal forecasts.
Net borrowing was 6.9 billion pounds compared with 7.2 billion pounds a year earlier, the Office for National Statistics Tuesday. It left the shortfall in the first nine months of 2016-17 at 63.8 billion pounds, down 14 percent.

The improvement reflected higher tax receipts, which rose 5.6 percent. Income tax, corporation tax and stamp duty on property purchases showed the strongest gains. Government spending was little changed.
The decision to leave the European Union is expected to take a heavy toll on the public finances over the coming years. Officials now see the deficit in the current fiscal year coming in at 68.2 billion pounds, or 3.5 percent of economic output.
Much will depend on January, the biggest tax month of the year. Forestalling ahead of a dividend-tax increase that took effect in April last year is expected to boost self-assessed income-tax revenue. That should help to offset weaker stamp-duty receipts caused by a downturn in the London housing market since the Brexit referendum.
Pressure on the public finances is also coming from debt-interest, as accelerating inflation pushes up the cost of servicing index-linked gilts. Debt payments in the first nine months of the fiscal year were up almost 7 percent on the year.
That could force the Treasury to sell more bonds than planned. Central-government cash borrowing stood at 84.3 billion pounds between April and December, leaving the government little room to meet its full-year forecast of 85.7 billion pounds.
The total cash deficit surged to 36.3 billion pounds in December, the highest since 2008. The increase reflected higher borrowing by the Bank of England to finance its asset-purchase program, which it restarted last year. Net debt climbed to 1.7 trillion pounds, or 86.2 percent of GDP.
— With assistance by Mark Evans, and Harumi Ichikura
Before it's here, it's on the Bloomberg Terminal.
LEARN MORE