Trump Asks FBI's Comey to Stay On and Director Agrees, Source Says
By
Comey drew criticism at times from Republicans and Democrats

FBI continues to investigate possible Trump-Russia ties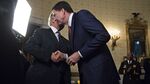 FBI Director James Comey, who managed to anger both Republicans and Democrats during the presidential campaign, was asked to remain in his post by President Donald Trump and has agreed to stay, according to a U.S. official with knowledge of the matter.
While Trump could have fired Comey, who's in the fourth year of a 10-year term, doing so would have been a rare intervention in the FBI's leadership. It would have been especially controversial because the agency has for months been investigating possible ties between Russia and Trump, his associates and the Republican's campaign.
Trump, who last year denounced Comey for not prosecuting rival Hillary Clinton over her private e-mail server, asked Comey to continue leading the Federal Bureau of Investigation after an in-person briefing on Jan. 6, according to the official, who asked not to be identified discussing the private conversation. The briefing was on the continuing investigation of Russian hacking during the presidential campaign that U.S. intelligence agencies say was aimed at helping Trump and hurting Clinton, his Democratic opponent.
Asked about Trump's position on Comey during the daily White House briefing on Tuesday, spokesman Sean Spicer said, "I don't know what the status is" and added that he'd follow up with the president on it.
Trump's decision to keep Comey, reported earlier by the New York Times, may have been signaled at a White House reception on Sunday, when the president called out Comey with a handshake and hug.
Offending Both Sides
Initially, Trump denounced Comey for announcing in July that prosecution of Clinton or her aides wasn't warranted even though the FBI chief cited them for being "extremely careless" in their handling of classified information. But Comey later drew fire from Democrats for disclosing to Congress shortly before the election that the FBI was looking into a newly uncovered cache of e-mails from Clinton and aides from when she was secretary of state. Clinton has blamed Comey's actions for stopping her momentum and tipping the race against her.
Trump's gesture of warmth toward Comey over the weekend came as the president addressed a group of law enforcement officials and first responders in the White House's Blue Room, where he thanked them for keeping him safe during the inauguration.
"There's James," Trump said at one point, calling Comey to come forward as he told the crowd, "He's become more famous than me."
— With assistance by Margaret Talev
Before it's here, it's on the Bloomberg Terminal.
LEARN MORE