politics
Trump Nominee McMahon Vows to 'Revitalize' Entrepreneurship
By
Ex-WWE chief would seek to send federal contracts to companies

Small Business Administration to remain in Cabinet under Trump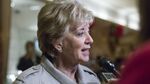 World Wrestling Entertainment Inc. co-founder Linda McMahon, President Donald Trump's nominee to head the Small Business Administration, said her goal is to "revitalize a spirit of entrepreneurship in America" at her confirmation hearing Tuesday.
McMahon received largely friendly questioning in the hearing by the Senate Small Business and Entrepreneurship Committee in Washington. She told members she has shared the experiences of small business owners -- including bankruptcy -- and would be an advocate for them.
"Even entrepreneurs with the best ideas sometimes need a little wind beneath their wings," McMahon said.
With an annual budget of about $710 million, the SBA is responsible for ensuring that small businesses get 23 percent of U.S. government contracts, which totaled more than $400 billion in 2016. Women-owned businesses are supposed get at least 5 percent of the total, a goal that was set in 2011 and achieved for the first time in 2015, amounting to $17.8 billion of contracts.
McMahon and her husband of 50 years, Vince McMahon, are worth about $1.356 billion, according to Bloomberg Billionaires. She donated more than $6 million to Trump's campaign, according to an analysis of Federal Election Commission data by the Center for Public Integrity. She stepped down as chief executive officer of WWE in 2009 and later twice ran unsuccessfully for the U.S. Senate from Connecticut.
Plans to Resign
McMahon plans to resign from all management roles at WWE and a separate company she founded to promote women's leadership and will receive only passive investment income from them as part of her agreement with the Office of Government Ethics, she said in a Jan. 16 letter. She also agreed to sell a number of investments, including in Skybridge Multi-Adviser Fund Hedge Portfolios, founded by Trump adviser Anthony Scaramucci.
Under questioning by the committee's top Democrat, Senator Jeanne Shaheen of New Hampshire, McMahon said she was a "firm believer that SBA should be a stand-alone agency." Asked by Shaheen about an earlier statement she made that supported merging some federal agencies, McMahon said she backed getting rid of "duplicative programs," not merging the SBA into another agency such as the Commerce Department.
Small businesses, which vary in size depending on their industry, employ half of the private-sector work force and created almost 60 percent of all net new U.S. jobs since 1990, according to SBA data. After the election of Trump, who has promised to reduce taxes and regulations, optimism among small business owners made its sharpest surge since 2009 in an index compiled by the National Federal of Independent Business.
McMahon has cautious approval from small business experts. Karen Mills, who led the agency from 2009 to 2013, said she's happy the position will remain as a Cabinet-level position.
'At the Table'
"Small businesses need someone at the table who knows what it takes to grow and run a small business," said Mills, now a senior fellow at Harvard Business School.
Asked her first priority for the SBA, McMahon said she would look at strengthening the disaster relief program for small business. She said the SBA's response was delayed following the devastation of Hurricane Sandy in Northeast states in 2012, hurting local businesses and by extension the economy. The SBA's disaster loan program, worth about $33 million in 2016, is on a list of programs proposed for elimination by the conservative Heritage Foundation. 
Several senators urged McMahon to raise the agency's voice as an advocate for small business with other government bodies.
McMahon may be able to get more of a hearing than her predecessors, who "were usually on the losing side of the battle," Scott Shane, a professor of entrepreneurial studies at Case Western Reserve University in Cleveland, said in an interview after McMahon was nominated in December.
McMahon also said she cared about advancing women-owned companies, a rapidly increasing demographic. Women own 38 percent of U.S. businesses, up from 29 percent in 2007, according to data from American Express. But they account for only about 8 percent of employment and 4 percent of revenue.
'Level the Playing Field'
McMahon should "not only support, but strengthen SBA programs that help level the playing field for women entrepreneurs and reduce the gender gap on federal contracts," Shaheen said in an e-mail before the hearing. Women-owned businesses received 14 percent of the SBA's largest loan program, which was valued at $24 billion in 2015.
McMahon told the committee she learned about failure when she and her husband declared bankruptcy after an investment went bad. "I have learned it's not how you fall, but how you get up that truly matters," she said.
Her latest company, Women's Leadership LIVE, seeks to use her experience in putting on live wrestling matches to create women-focused events. The company, which charges $388 for membership, has held several conferences featuring a contest modeled after the TV reality show "Shark Tank," where women pitch their business ideas for a chance to win cash and meetings with the judges, including McMahon and other executives.
James Risch, chairman of the Senate committee, said he would seek a full Senate vote to confirm McMahon next week. 
(
Updates with comments from committee hearing starting in 11th paragraph.
)
Before it's here, it's on the Bloomberg Terminal.
LEARN MORE