Kidney Disease-Fighting Drug Aimed at Feline-Loving Japan
by
Toray says drug is first to treat drop in cat kidney function

Feline ownership rising even as pet dogs lose popularity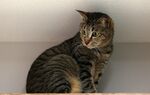 Toray Industries Inc. said it will sell medicine to treat chronic kidney disease in cats as the popularity of feline pets grows in Japan.
The Tokyo-based chemical maker said in a statement yesterday it has received approval to make and sell the drug, Rapros, which will go on sale in Japan from April. Taken orally, the medicine is the first in the world to help limit the deterioration in kidney function in cats, rather than just ameliorating the symptoms of the disease, according to the company.
While dog ownership has fallen in recent years in Japan, the number of pet cats has risen by 1 percent since 2012 to 9.85 million. Dog ownership slid 14 percent over that period, data from the Japan Pet Food Association show. Chronic kidney disease is found in 30 to 40 percent of felines that are 10 years or older, according to Toray.
"We're in an unprecedented cat boom that's even given rise to the word 'nekonomics'," Toray said, using a portmanteau that combines the Japanese word for cat with economics. The popularity of cats was estimated to have an economic impact topping 2.3 trillion yen ($20 billion) in 2015, according to research by Katsuhiro Miyamoto at Kansai University.
Before it's here, it's on the Bloomberg Terminal.
LEARN MORE