Serbia and Kosovo Seek to Calm Nerves After Train Confrontation
by
EU wants fresh commitment to dialog after tensions rise

Political leaders to meet for first time in 12 months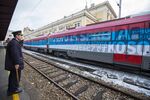 The leaders of Serbia and Kosovo are heading to Brussels for talks called by the European Union aimed at soothing simmering tensions after Serbia tried to send a train adorned with nationalist symbols across the border.
EU Foreign Policy chief Federica Mogherini called the meeting for Tuesday under the auspices of negotiations to normalize relations between Kosovo and Serbia, which has refused to recognize its former province's 2008 declaration of independence. Both governments are facing calls at home to end the dialog, which is still seen as treacherous in the two countries a decade and a half after a NATO-led bombing campaign forced Slobodan Milosevic's forces out of Kosovo to seal its split from the biggest former Yugoslav republic.
"Talks won't be simple at all -- not easy -- our positions are completely opposite," Serbian Prime Minister Aleksandar Vucic said at a news conference on Sunday in Belgrade. "They have the assumption that Kosovo is an independent state, while we see it as part of the Republic of Serbia. What matters and that must be concluded by all of us is that there must be no use of arms or combat weapons."
Train Incident
Tensions threatened to boil over last week when Serbia sent a train painted with slogans declaring "Kosovo is Serbia" to its neighbor. Premier Aleksandar Vucic ordered the train halted, saying he'd heard reports that Kosovar forces had rigged the track with mines and sent a special force unit to attack it, while President Tomislav Nikolic said Serbia was ready to send troops to defend Serbs there. Kosovar President Hashim Thaci accused the Serbian leaders of having the same goals as Milosevic, who died in a Hague jail while being tried for war crimes.
Vucic and Nikolic will meet Thaci and Prime Minister Isa Mustafa in Brussels late Tuesday, although the normalization talks, a key part of Serbia's efforts to be prepared for EU entry by as soon as 2020, are at risk of collapse. Thaci called on Serbia to recognize Kosovo in what he labeled the final chapter in their talks to normalize relations, according to Kosovo's RTK news portal. Serbia has "no great expectations" from the Brussels encounter, Vucic told reporters in Belgrade on Monday.
The dispute between Serbia and Kosovo is at risk of heating up following the election of U.S. President Donald Trump and efforts by Russia to rebuild its influence in a region where it has Orthodox religious, cultural and historical ties. Nikolic, who has repeatedly said that Serbia will never recognize Kosovo even if it means giving up EU aspirations, sent a note to Trump on Nov. 9 saying he expects the U.S. president to better understand Serbia's position than previous administrations.
"We are still far from the final stage of resolving crisis," Bosko Jaksic, an independent foreign policy analyst in Belgrade, said by phone.
Before it's here, it's on the Bloomberg Terminal.
LEARN MORE