S&P 500 Options Showing Little Fear Over Trump Policy...For Now
by
Smoothness of term structure mirrors pre-election complacency

Bond volatility relatively higher as uncertainties abound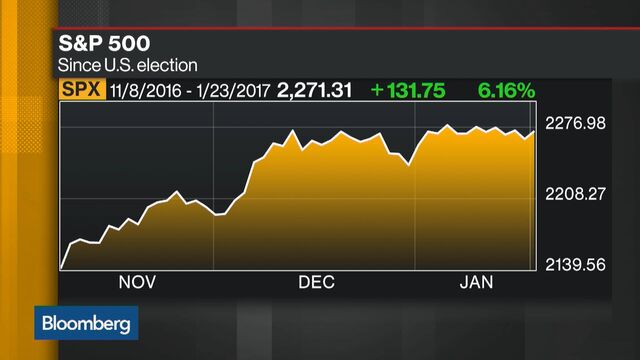 S&P 500 options are showing little anxiety over Donald Trump's policies over the next few weeks, even as rates options capture concerns, according to Bloomberg strategist Tanvir Sandhu.
The smoothness of S&P 500 Index's volatility term structure indicates complacency in factoring in policy shifts by the government, reminiscent of a similar formation three weeks before the U.S. election on Nov. 8 when opinion polls overwhelmingly predicted a Hillary Clinton win.

The term structure, or the curve that captures the difference in implied volatilities with differing maturities, had developed a kink toward the end of October as uncertainty over the election increased after the Federal Bureau of Investigation reopened its investigation into Clinton's use of private e-mail.
Front-month volatilities should be higher given the uncertainty regarding Trump's policies and the time frame for their implementation. But investors seem to be in a wait and see mode to avoid theta, or a decline in the value of options due to the passage of time.
Assessment of policy changes by Trump's team, which prompted a sharp rotation within the S&P 500 index, had pushed one-month implied correlation to an all-time low and increased investors' potential to generate alpha. The rotation was led broadly by cyclicals and particularly by financial stocks.

For now, implied volatilities in stocks stay contained as realized volatilities remain low, with the S&P 500 Index not far from its all-time high. The one-month implied volatility is about 9.2, near record lows seen in 2014, while the 30-day realized volatility is 6.5.
Meanwhile, rates volatility remains high relative to that of equity volatility amid elevated expectations of fiscal stimulus and medium-term risks around the Fed's policy path.
The ratio between the Chicago Board Options Exchange Volatility Index, or the VIX, and the Merrill Lynch Option Volatility Estimate, or the MOVE Index, is lingering near the levels seen at the height of the "taper tantrum" in 2013 when fears of a reduction in quantitative easing boosted bond volatility.

S&P 500 1-week straddles are currently priced at 0.88 percent with breakeven S&P 500 levels between about 2,283 and 2,244.
SPX 1-month and 3-month normalized skews, the difference between 25-delta puts and calls divided by 50-delta implied volatility, have moved higher.
SPX 1-month 25-delta puts have fallen to about 12 vol while calls are trading at about 8 vol.
Concerns about potential volatility spikes may bring convexity options into focus that tend to outperform in aggressive selloffs that accelerate VIX gains due to the asymmetry of equity volatility.

NOTE: Tanvir Sandhu is an interest-rate and derivatives strategist who writes for Bloomberg. The observations he makes are his own and are not intended as investment advice.
Before it's here, it's on the Bloomberg Terminal.
LEARN MORE