Pricier Oil Means China's Foreign Reserves Will Shrink Even Faster, Goldman Says
Reserve losses in 2017 could exceed those in 2015 and 2016.
by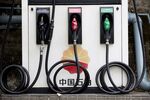 Much focus is on how China's capital outflows will impact the world's biggest pile of foreign-exchange reserves, but another issue in need of attention here is the rally in crude, argues Goldman Sachs Group Inc.
In a country where oil prices play "a disproportionate role" in the balance of payments — and China's crude output is forecast to fall as much as 7 percent this year — the commodity's bullish outlook poses a serious threat to reserves that have already shrunk more than 20 percent in the past two years.

"The outlook for the balance of payments has deteriorated from a year ago, because oil prices are now on an upward trajectory, which could push the current-account surplus to around $200 billion this year, down from $331 billion as recently as 2015," Goldman analysts Robin Brooks and Michael Cahill wrote in a Jan. 23 note.
That 40 percent slump is part of the picture for reserves, which contracted to $3.01 trillion at the end of 2016 from a record $3.99 trillion in mid-2014. A stronger dollar will also drive outflows.
Goldman estimates the greenback will strengthen 15 percent by the end of 2019 against its major developed-market peers, so China is likely to keep weakening its currency fixing to maintain stability. The analysts reckon this could trigger a renewed pick-up in capital flight, which abated to $532 billion in 2016 from $736 billion in 2015. China even registered net inflows via its capital and financial accounts in December for the first time for 1 1/2 years.

Still, Goldman sees capital outflows slowing this year to $500 billion, and it expects reserve losses to accelerate to $394 billion from $369 billion in 2016 because the deterioration in the current account, led by surging oil prices, is "so sizable."

Before it's here, it's on the Bloomberg Terminal.
LEARN MORE