Merkel to Face Schulz in Election After Gabriel Steps Down
By , , and
Gabriel makes surprise announcement to SPD lawmakers in Berlin

Polls show Schulz with better chances against Merkel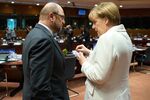 Angela Merkel is facing a fresh electoral headwind after Social Democratic leader Sigmar Gabriel unexpectedly said he won't run against her for the chancellorship, opening the field to the more popular Martin Schulz to be her main challenger.
Gabriel, 57, told Social Democratic lawmakers in Berlin on Tuesday that he will also step down as party chairman, a post he's held since 2009. The SPD had left the decision over a candidacy against Merkel in the Sept. 24 vote to Gabriel, with most in the party expecting him to run.
"I respect the decision very much," SPD Environment Minister Barbara Hendricks told reporters as she left the meeting. "Actually we can be very grateful to Sigmar Gabriel for this decision -- he made it from a position of strength."
Polls show that Schulz, who left his position as European Parliament president last month to join the German political fray, has better chances against Merkel. Gabriel told lawmakers that his decision was based in part on his recognition that he had been associated with the Social Democrats' three-year-old "grand" coalition with Merkel, making Schulz the more popular choice, SPD lawmaker Lothar Binding said.
"We were very surprised, but in the positive sense," Binding said.
Merkel's Christian Democratic-led bloc leads all polls, well ahead of the Social Democrats. Still, if the shakeup improves the party's fortunes, that would open a new front against Merkel, who is already confronting a challenge from the anti-immigration Alternative for Germany party over her open-border refugee policy.
Grand Coalition
Gabriel's tenure as chairman for more than seven years was surpassed only by Willy Brandt in the postwar period. He maneuvered the fractious party into a second grand coalition with Merkel in 2013, pushing through SPD policies such as establishing a nationwide minimum wage and introducing an option for early retirement.
Even though Schulz, 61, has been a familiar figure in Brussels for most of the last two decades, he's fresh to German national politics. A member of the European Parliament since 1994, Schulz had served as the mayor of the town of Wuerselen near the French border.
A survey published in Bild am Sonntag earlier this month showed that Merkel would get 46 percent of the vote if the chancellor were directly elected rather than chosen by the majority party. Gabriel would garner 27 percent. In a Merkel-Schulz match up, her support would slip to 39 percent, with Schulz at 38 percent, according to the poll.
"I'm very confident that we now have a very good chance to successfully run a campaign," SPD parliamentary caucus chairman Thomas Oppermann told reporters after Tuesday's meeting.
Gabriel will relinquish his post as economy minister to become foreign minister, replacing Frank-Walter Steinmeier, Die Zeit reported. Steinmeier is due next month to become German president, a mostly ceremonial position.