Hong Kong Will Return Seized Military Vehicles to Singapore
By
Hong Kong customs detained infantry carriers in November

Hong Kong says investigation may lead to criminal prosecution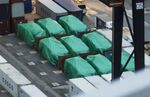 Hong Kong will release Singaporean infantry carrier vehicles and other equipment that it seized in November while saying an investigation into them may lead to criminal prosecution.
The nine SAF Terrex Infantry Carrier Vehicles were seized en route from Taiwan on a container ship after being used in training exercises. They will be returned to Singapore through the carrier, Roy Tang, Hong Kong's Commissioner of Customs and Excise, said in a written statement. Tang did not say who might be targeted in prosecution.
Singapore's Ministry of Foreign Affairs said in a statement the decision is a "positive outcome," adding that Prime Minister Lee Hsien Loong had sent his thanks to Hong Kong Chief Executive Leung Chun-ying for Hong Kong's cooperation.
"Import, export and transshipment/transit of strategic commodities in breach of licensing requirement are criminal offences punishable under the Hong Kong law," Tang said. "The action by the Hong Kong Customs on November 23, 2016 was taken because there was a suspected breach of the Hong Kong law."
Beijing Protests
Singapore had shipped troop carriers commercially for 30 years without incident, Singaporean Defense Minister Ng En Hen told parliament earlier this month. The shipment prompted a formal protest from Beijing, which warned Singapore to follow Hong Kong law and the One-China principle that China uses to guide its affairs with Taiwan, which it considers a province.
Singapore, a small island-nation that regularly trains its troops overseas, has strong economic, historical and cultural ties to China. China is Singapore's largest trade partner, and many Singaporean residents are descendants of traders from the mainland. In late 2015, Singapore hosted the first summit between the presidents of China and Taiwan since their civil war.
At the same time, Singapore has strengthened military ties with the U.S., allowing Poseidon surveillance aircraft and littoral combat ships to operate out of its territory.