Fink Says BlackRock Watching How CEOs Handle Global Upheaval
by
Brexit, Trump 'have upended' assumptions, Fink says in letter

Firm to also focus on repatriation of cash in any tax reform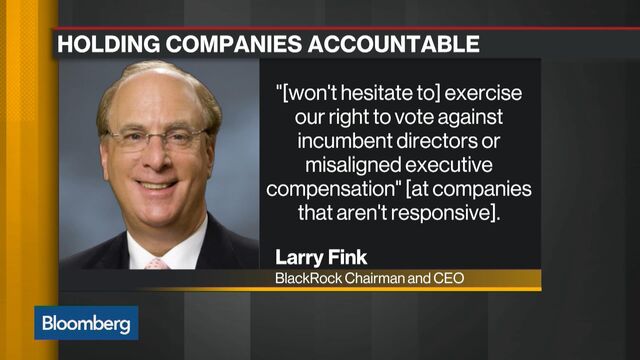 Laurence D. Fink, chief executive officer of BlackRock Inc., said in a time of global upheaval -- from Brexit to the election of Donald Trump -- it's imperative that companies constantly assess their strategy and adapt to changing markets.
In his annual letter to CEOs posted on the firm's website Tuesday, Fink said BlackRock will keep a close eye on how companies are responding to this environment where there is a growing backlash against the impact of globalization and technological change. 
Among the questions BlackRock, the world's largest asset manager and a major shareholder in some of the biggest U.S. companies, will be asking: "How have these changes impacted your strategy and how do you plan to pivot, if necessary, in light of the new world in which you are operating?" wrote Fink.
Fink focused in particular on the possibility of companies' repatriating cash from overseas if the Trump administration achieves tax reform or changes to the capital gains regime.
"BlackRock will be looking to companies' strategic frameworks for an explanation of whether they will bring cash back to the U.S., and if so, how they plan to use it," Fink wrote. "Will it be used simply for more share buybacks? Or is it a part of a capital plan that appropriately balances returning capital to shareholders with prudently investing for future growth?"
Tax Issues
Fink said that capital gains should receive long-term treatment only after three years with a decreasing tax rate for each year of ownership beyond that.  
While BlackRock holds significant influence as the largest money manager in the world, it is unclear how much it exercises it through voting. Vanguard and BlackRock almost always side with corporate boards when it comes to CEO pay decisions. The two money managers voted with directors on executive pay plans 97 percent of the time in 2015, according to a report issued early last year by shareholder advocacy group As You Sow.
Yet Fink said the firm won't hesitate to "exercise our right to vote against incumbent directors or misaligned executive compensation" at companies that aren't responsive.
"As we seek to build long-term value for our clients through engagement, our aim is not to micromanage a company's operations," he wrote. "However, a long-term approach should not be confused with an infinitely patient one."
Before it's here, it's on the Bloomberg Terminal.
LEARN MORE