Ex-Billionaire Batista Has $63 Million Frozen by Judge
By
Cayman Island judge's order disclosure follows U.S. lawsuit

Eike Batista entangled in Brazil's biggest corruption scandal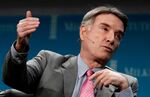 Former Brazilian billionaire Eike Batista had $63 million of his assets frozen by a judge in the Cayman Islands at the request of two U.S. investors in his failed oil-exploration businesses.
Justice Ingrid Mangatal, of the Cayman Islands' Grand Court, ruled in October that Meridian Trust Co. and American Associated Group Ltd. presented enough evidence to warrant the asset-freeze order. Mangatal's ruling was unsealed on Tuesday.
The U.S. investors claimed in a separate Florida lawsuit that Batista looted his companies in the months prior to their bankruptcy filings in October of 2013 because he knew a collapse was imminent. There's evidence he moved $572 million from Brazil to the Bahamas and then tried to move $100 million from his Bahamas account to Florida, the Cayman Islands' judge said in a separate order in November, explaining her reasons for issuing the freeze.
"That dissipation of assets was frustrated by the intervention of bankers," Mangatal wrote.
Batista, who made and lost more than $30 billion during Brazil's commodities boom, is now entangled in the country's biggest corruption scandal. The businessman is under investigation in the so-called Carwash probe, and one of his former chief executive officers has been temporarily arrested for allegedly paying bribes to win work with state-controlled oil producer Petroleo Brasileiro SA four years ago.
Miami Lawsuit
The disclosure of the Cayman Island judge's order followed last week's filing of the lawsuit by Meridian Trust and American Associated, who said in the complaint that they bought $21 million of bonds issued by Batista's companies. They sued Batista, 11 of his associates and family members, and 10 corporations they set up. They're seeking triple damages in state court in Miami under Florida's civil fraud statute.
BlackRock Inc., Pacific Investment Management Co. LLC and the Florida Retirement System also lost money in Batista's companies, according to the lawsuit.
The investors claim Batista knew that his company, OGX Brazil SA, held oil-exploration leases that were worthless and that he lied in public statements that it was sitting on trillions of dollars in oil.
"Our client lost a lot of money and from everything we have seen so far, it was fraud," Henk Milne, who is representing the U.S. investors, said in an interview.
Batista's lawyer, Sergio Bermudes, didn't immediately respond to phone and e-mail requests for comment on the freeze order.
Before its record-breaking bankruptcy, OGX commissioned "huge multimillion-dollar, oil-production platforms -- tanker vessels equipped with drill rigs -- from his satellite ship-building company, OSX, which he paid for with OGX investor money," the U.S. investors claim. "He trumpeted plans for a satellite port city in Brazil to be run by his logistics company, LLX, that would blossom as the tankers off-loaded a 'trillion dollars' of oil."
'Window Dressing'
"But all the vast production and transport paraphernalia was just window dressing," the investors claimed in the complaint. "There was, in fact, virtually no recoverable oil, no need for the massive production machinery to pump and transport it, and no need for a dedicated port to offload it."
The case is Meridian Trust Company, v. Batista, 2017-001040-CA-01, in Florida's 11th Circuit (Miami)