EU Tells Trump Reviving Borders, Trade Barriers 'Doomed to Fail'
By
Malmstrom vows to push international deals 'Trump or no Trump'

'Building a wall is not the answer,' EU trade chief says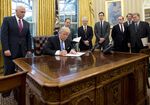 The European Union's trade chief rejected Donald Trump's protectionist views, vowing to press ahead with market-opening deals a day after the U.S. president abandoned a 12-nation trans-Pacific trade agreement.
"Those who, in the 21st century, think that we can become great again by rebuilding borders, re-imposing trade barriers, restricting people's freedom to move -- they are doomed to fail," EU Trade Commissioner Cecilia Malmstrom said on Tuesday at a Bruegel conference in Brussels. "Building a wall is not the answer."
Trump on Monday signed an executive order axing U.S. participation in the Trans-Pacific Partnership, one of the largest proposed regional trade blocs ever. The EU expects the imminent entry into force of a free-trade accord with Canada, is close to wrapping up negotiations with Japan, and is pursuing a host of other commercial deals, including with the U.S. The 28-nation bloc already has agreements with countries including South Korea, Singapore, Mexico, Colombia and Peru.
On the EU-Canada accord, Malmstrom said that "if all goes well, it could enter into force in March." The European Parliament and the Canadian legislature are poised to approve the deal by the end of February.
Meanwhile, "the election of Donald Trump seems likely to put our EU-U.S. negotiations firmly in the freezer at least for a while," Malmstrom said. "Yet, even if the U.S. is our most important partner, and a necessary one, the world is bigger than one country. Trump or no Trump, we have a long list of many others willing to deal with the EU, and about 20 more trade deals already in the pipeline."
Before it's here, it's on the Bloomberg Terminal.
LEARN MORE