Brexit Bulletin: May Loses Court Case
The Supreme Court verdict is in. Will it make any difference?
By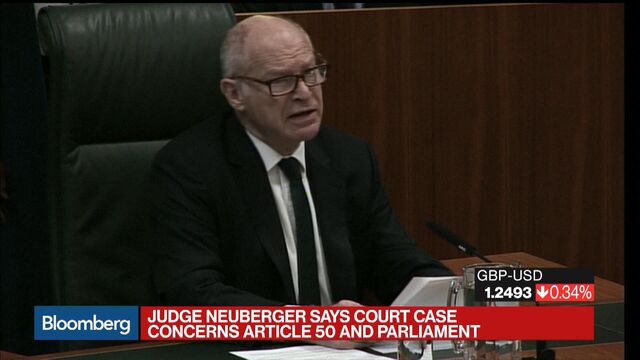 Sign up to receive the Brexit Bulletin in your inbox, and follow @Brexit on Twitter.
Theresa May's road to Brexit just got bumpier, with the U.K.'s highest court ruling she needs to pass an Act of Parliament before opening negotiations with the European Union. 
The decision by the Supreme Court hands lawmakers the chance to constrain May, who just a week ago laid out her vision for a clean break. Some will seek to place roadblocks in her path, for example holding her to account throughout the two-year Brexit process or pushing her to hold another referendum once a final deal is struck.

The ruling won't stop Article 50 of the Lisbon Treaty being triggered, with almost all members of Parliament saying they'll vote in favor of that. However it could jeopardize May's plan to do so by March 31, despite government insistence that it can keep to that self-imposed deadline.
Need (or want) to know more about how the process will work? Bloomberg's Westminster reporter Rob Hutton has everything you need to know about what happens next.
How They Reacted
Labour Party leader Jeremy Corbyn said that while the opposition won't frustrate Article 50, it will try to amend the bill. He aims to "build in the principles of full, tariff-free access to the single market," to ensure the government is accountable to Parliament through the negotiations and to put the final deal to a "meaningful" vote.
Tim Farron, the leader of the Liberal Democrats, said his party will vote against Article 50 unless the government agrees to subject the ultimate Brexit pact to a referendum.
The Scottish National Party said it would make 50 amendments, including one which would require May to include the semi-autonomous governments in Scotland, Wales and Northern Ireland in its Article 50 decision.
Paul Nuttall, leader of the U.K. Independence Party, had this warning: "Woe betide those politicians or parties that attempt to block, delay or in any other way" subvert the will of the people.
Here's a deeper round-up of how some of the key players reacted to the ruling.
Small Comfort
The Supreme Court also ruled unanimously that legislatures in Scotland and Northern Ireland don't get to vote on the Article 50 process that starts to wrest the U.K. from the EU after 44 years. Scotland probably would have sought to block the exit.
First Minister Nicola Sturgeon said in response that Scotland, which voted against Brexit, should be able to choose a different future.
On the Markets
The pound fell on the ruling as investors concluded it won't derail the start of the Brexit process. 

Defiance on Trade
In other Brexit news, it seems the U.K. is preparing to fire the starting gun on trade negotiations with countries outside the EU within months, in open defiance of warnings from Brussels that such action would be illegal.
May's triggering of Article 50 will prompt her team to begin trade talks around the world, Bloomberg's Tim Ross reported overnight, citing a senior official who spoke on condition of anonymity because the plans are confidential.

The move would directly contradict the European Commission, whose spokesman said on Monday that Britain would not be allowed to begin negotiations on any new trade deals with other countries outside of Europe until it has left the bloc. 
Members of May's team believe the EU will have no legal authority to stop the U.K. once the Brexit process has started and little political appetite for a fight on this issue. The risk for May is the EU may seek retribution for the defiance in the Brexit talks.
Brexit Bullets
Britain is free to adjust corporate taxes as it wishes, says Pierre Moscovici, the EU commissioner for economic affairs, taxation and customs
German and French efforts to lure U.K.-based banks unsettled by Brexit may stumble over their planned tax on financial transactions, Bloomberg's Alexander Weber writes
Poland is seeking to attract as many as 30,000 British jobs to its business-service sector this year, its government says
May is to visit U.S. Republican Party lawmakers in Philadelphia on Thursday. She plans to travel to China again "relatively soon" to bolster trade ties, FT reports
U.K. seeks "smooth transition" inside World Trade Organization, diplomat Julian Braithwaite says
Trade Minister Greg Hands tells Swedish business paper DI that Britain must get better at exporting
26 percent of voters want a second referendum on ultimate Brexit deal, says Guardian 
And Finally?
Monday marked four years since then-Prime Minister David Cameron visited Bloomberg's London headquarters to announce plans for a referendum on EU membership. 
The rest is history but Rupert Harrison, then a government adviser and now a strategist at BlackRock, recently drew lessons for May from Cameron's efforts to renegotiate Britain's relationship with Brussels. 
May should perhaps rely less on Germany for support than Cameron did and try to build a coalition with other European countries, he said. She might also want to be willing to walk from the talks if she's not getting her way.
Harrison also advised the premier that Europe is serious when it says it has "red lines."
"That's not a negotiating position; that's the truth and the U.K. needs to understand that," Harrison said.
For more on Brexit follow Bloomberg on Twitter, Facebook and Instagram, and see our full coverage at Bloomberg.com
Before it's here, it's on the Bloomberg Terminal.
LEARN MORE