Your Evening Briefing
Here are today's top stories.
By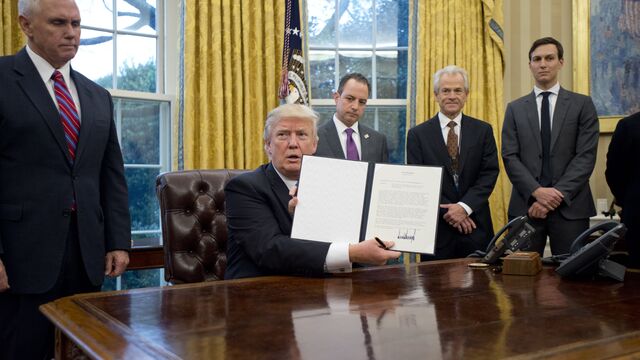 It's the start of a new week, the first full one for an administration that spent this weekend spreading false information about Donald Trump's less than historic inaugural attendance. Now that Monday has dawned, the new week brings the president's promised end to some trade deals, as well as an end to one of his promises. And the world keeps turning. —Megan Hess
Trump revamps U.S. trade focus by pulling out of TPP. The president abruptly ended the decades-old U.S. tilt toward free trade by signing an executive order to withdraw from the Asia-Pacific accord, which was never ratified, and promising to renegotiate the North American Free Trade Agreement.
Uber drivers are sleeping in parking lots. After their shifts end, many drivers—ones who live near, but not in, expensive cities—seek out supermarket parking lots, airports, and hostels to catch some sleep after taking riders home from the bars.
The lawsuits against Trump begin with a challenge to his foreign dealings. A government watchdog group sued Trump in federal court Monday, alleging his business dealings violate the Constitution's ban on federal officials receiving payments from foreign governments. The suit centers on a section of the Constitution that hasn't received much scholarly attention.
McDonald's all-day breakfast is getting cold. When the company's U.S. restaurants started serving breakfast food at all hours in 2015, customers were ecstatic about their dinnertime Egg McMuffins and sales surged. But now the effect is waning: While overall earnings beat analysts' estimates last quarter, domestic same-store sales fell 1.3 percent.
Wall Street begins to worry Trump's promises won't be fulfilled. Analysts are becoming increasingly concerned about key proposals such as lowering corporate taxes and increasing infrastructure spending. If Trump doesn't follow through, or aspects of the reforms are pared back, their outlooks would become much less optimistic.
Women marched into history in Trump's capital. Hundreds of thousands of people descended on Washington, D.C., over the weekend, creating the epicenter of a national protest event unlike any other recent presidential inauguration. Hundreds of thousands more also marched across America and around the world, even in Antarctica.
What it's like to custom-design your own superyacht. At the Benetti shipyard in Viareggio, in Italy's Tuscany region, staff helps customers from over 50 countries choose the interior and exterior design of their private boats, select additional toys, and sketch and then build on-board elevators, gyms, swimming pools, and bars. The sky's the limit.

Before it's here, it's on the Bloomberg Terminal.
LEARN MORE