U.K. Can Only Discuss Trade, Not Negotiate Deals, EU Says
By and
European Commission clarifies position on Britain's rights

U.K. must first reach pact with the EU, Malta's Muscat says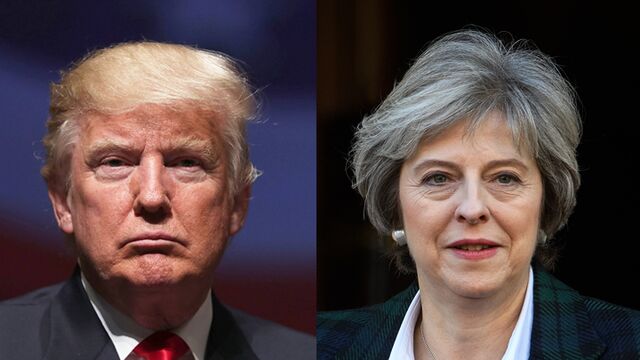 The U.K. is allowed to discuss trade agreements with other countries as long as it doesn't formally negotiate with them before it leaves the European Union, a spokesman for the bloc said.
"There's nothing in the treaties that prohibits you from discussing trade," European Commission spokesman Margaritis Schinas told reporters in Brussels on Monday. But he reiterated previous remarks that EU countries can't hold official talks on future deals while still a member.
"It's very clear that in order to sign and have a bilateral agreement with third countries, the U.K. first needs to reach a settlement with the EU," Maltese Prime Minister Joseph Muscat said in an interview. "This is rather clear, and I believe that it's also in the minds of the British negotiators."
The comments underscore the delicate balance U.K. Prime Minister Theresa May and her government face as she prepares to meet President Donald Trump on Friday. The Trump administration will lay the groundwork this week for a trade pact between the U.S. and the U.K. that would take effect after Britain departs the EU, a White House aide said on condition of anonymity.
Favorable Deal
With countries in the EU ceding their right to strike trade deals to the Brussels-based Commission, the U.K. is prohibited from pursuing its own agreements until its withdrawal, scheduled for the first half of 2019. While it's unclear what sanction the EU would have if the U.K. breached the rules, any flagrant attempt to strike a free-trade agreement early could make it more difficult for May to get a favorable exit deal from the rest of the bloc.
"Friends don't punish friends, and the U.K. does not expect friends to punish it," British Minister of State at the Department for Exiting the European Union David Jones told reporters in Malta on Monday. The U.K could quickly strike a free-trade pact with the bloc, according to Jones, as "the country already embodies all EU legislation."
Some EU officials have said that any such discussion about a free-trade agreement can only take place after Brexit talks. The bloc's chief negotiator "Michel Barnier and his team have been very clear" that from the moment Britain exits the EU "there will be some sort of transition period" and in that period, trade talks will take place, EU Trade Commissioner Cecilia Malmstrom said in Davos last week.
The "first priority is to ensure that the deal on the U.K.'s exit from the EU is ironed out," Muscat said.
Before it's here, it's on the Bloomberg Terminal.
LEARN MORE