Tillerson Wins Senate Panel's Backing for Secretary of State
By and
Vote clears way for full Senate to confirm former Exxon chief

Senate confirms Representative Pompeo to head the CIA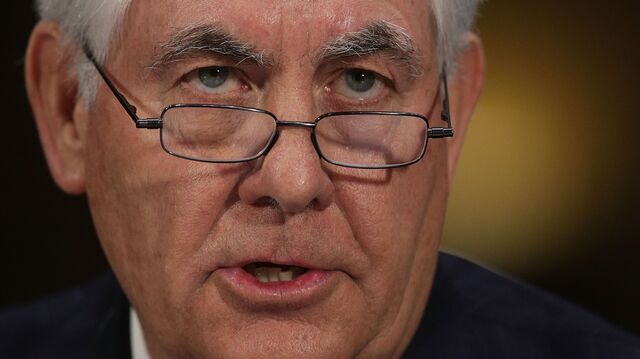 The Senate Foreign Relations Committee approved Rex Tillerson's nomination as secretary of state, clearing the way for the full Senate to confirm one of President Donald Trump's most critical cabinet choices.
The 11-10 vote fell along party lines with Democrats in dissent. It came hours after Senator Marco Rubio, who had been the lone Republican withholding his support, said he would back the nomination of the former Exxon Mobil Corp. chief executive officer as the nation's top diplomat despite concerns over his ties to Russian President Vladimir Putin and his refusal in his nomination hearing to condemn human rights abuses in Russia and the Philippines.
Read more about Rubio's decision to back Tillerson.
Tillerson's nomination raised fears from Democrats and Republicans alike for his connections to Putin -- who awarded him his country's Order of Friendship in 2013 -- and whether he would be able to put U.S. interests first after a 41-year career spent at one of the world's biggest companies with a financial stake in countries across the globe.
The committee sent Tillerson's nomination to the full Senate, where united support from majority Republicans all but ensures final approval. Trump has complained about the slow pace of confirmation for his nominees, although the Senate on Monday confirmed Representative Mike Pompeo of Kansas as head of the CIA on a vote of 66-32. Defense Secretary James Mattis and Homeland Security Secretary John Kelly were confirmed last week.
Tillerson will visit the State Department on Tuesday afternoon for briefings, according to a transition official who asked not to be identified because the plan hasn't been publicly announced. It will be Tillerson's first stop at the State Department since his nomination, according to the official.
Climate Change
Democrats who opposed Tillerson's nomination said they shared Rubio's concerns on human rights and Russia but were also disturbed by the 64-year-old nominee's views on climate change. In his nomination hearing, the longtime oil industry leader said that while he believes the threat of climate change requires a global response, he doesn't see it "as the imminent national security threat that perhaps others do."
Before the vote on Monday, Democrats also said they were concerned about Tillerson's statement that he would recuse himself from matters related to Exxon during his first year as secretary and rely on guidance from the State Department's ethics office after that.
"In the end, I just had too many concerns and questions about the kind of leadership he would provide at the state department to feel comfortable voting for him," said Senator Jeanne Shaheen, a New Hampshire Democrat.
Pompeo Debate
Pompeo's confirmation to head the Central Intelligence Agency was delayed last week by Senate Democrats who demanded more time to debate the nominee's positions on mass surveillance and waterboarding.
"What I've heard leads me to conclude the congressman should not be confirmed," Ron Wyden, an Oregon Democrat, said Monday on the Senate floor. "He has held extreme views on surveillance, torture and other issues."
In response to written questions from the Senate Intelligence Committee, Pompeo said he would "consult with experts" at the Central Intelligence Agency and other government agencies on whether the current ban on "enhanced interrogation techniques" is "an impediment to gathering vital intelligence to protect the country" and should be reversed.
Wyden also expressed concern about Pompeo's past statements calling for creating a searchable database combining publicly available financial and "lifestyle" information with "metadata" gathered by intelligence agencies.
John Cornyn of Texas, the No. 2 Senate Republican, said that Pompeo is well-qualified to head the CIA. Blaming Democrats for delaying approval, he said, "Our country continues to face incredible threats, and they are not hitting the pause button."
— With assistance by Arit John
Before it's here, it's on the Bloomberg Terminal.
LEARN MORE