Sessions Says He Won't Recuse Himself on Any Trump Conflicts
By
Attorney general nominee says there's no basis to step back

Says being a supporter of the president isn't a problem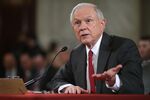 Republican Senator Jeff Sessions says he won't recuse himself from handling any potential conflicts of interest involving President Donald Trump or his family members if confirmed as the nation's next attorney general.
As the top U.S. law enforcement official, Sessions, an early and avid supporter of Trump's presidential campaign, could be drawn into the continuing debate over Trump's extensive holdings.
"If merely being a supporter of the president's during the campaign warranted recusal from involvement in any matter involving him, then most typical presidential appointees would be unable to conduct their duties," Sessions said in written answers to members of the Senate Judiciary Committee that's scheduled to vote on his nomination Tuesday. "I am not aware of a basis to recuse myself from such matters."
Sessions also told senators there's no reason for him to step back from decisions on whether to bring criminal charges in connection with Russian hacking of political groups in last year's campaign. U.S. intelligence agencies have concluded the Russian government was behind the theft and leaking of e-mails to help Trump beat his rival Hillary Clinton.
However, the senator from Alabama said he didn't yet have enough information to say whether he would recuse himself from an investigation being conducted by the Justice Department's inspector general into how the FBI handled its probe of Clinton's use of a private e-mail server when she was secretary of state.
Read more about concerns over Trump's conflicts -- QuickTake Q&A
Trump announced Jan. 11 that he will maintain ownership in more than 500 companies with $3.6 billion in assets while leaving day-to-day operations to two of his sons and a trustee. Although ethicists criticized the arrangement as falling short of the blind trusts set up by recent former presidents, Trump said he was doing more than he needed to do and noted that an ethics law that applies to most executive branch officials exempts the president.
Sessions was asked about the recusals and many other matters in the questions from Democratic Senators Dianne Feinstein of California and Patrick Leahy of Vermont.
"You were also a strong supporter and surrogate of the President-elect, which raises concerns about how you would handle Department actions against Mr. Trump or businesses to which he is connected," Leahy wrote.
In the written responses released Monday by the Judiciary Committee, Sessions repeatedly pledged that he would follow the law in a fair, professional and impartial manner. He also said he had no reason to remove himself from decisions on mergers involving companies that gave him campaign contributions.
Gun Crimes
"If I am fortunate enough to be confirmed as attorney general and a specific matter arose where I believed my impartiality might reasonably be questioned, I would consult with department ethics officials regarding the most appropriate way to proceed," Sessions wrote.
On other matters, Sessions said he would make enforcing federal gun crimes a top priority if confirmed. "I fully expect gun prosecutions to increase," he wrote. "Properly enforced, federal gun laws can reduce crime in our cities and communities."
Sessions was also asked whether he agrees with comments made by Alabama Republican Representative Mo Brooks in a radio interview that there's an ongoing "war on whites" by Democrats that has been reflected in efforts to portray Sessions as racist.
Sessions said he didn't hear the interview and wouldn't speculate what Brooks meant. But he added, "I do have concerns about the growing frequency with which those who disagree with a number of conservative policies use that as a basis to loosely accuse conservatives of bigotry and racial animus. I would not label these tactics as a 'war on whites,' however."

Before it's here, it's on the Bloomberg Terminal.
LEARN MORE