Rubio Backs Rex Tillerson's Nomination for Secretary of State
By
Nominee's confirmation by Senate is now all but ensured

Tillerson answers on Russia remain 'troubling,' Rubio says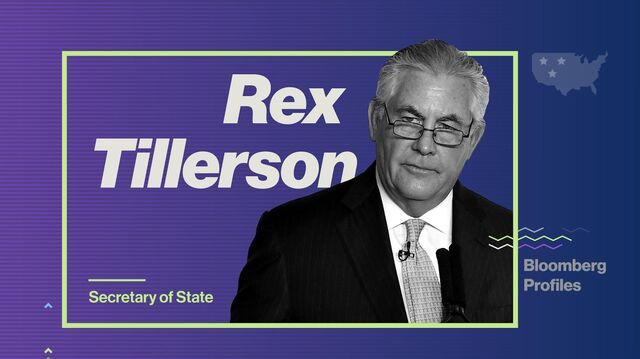 Senator Marco Rubio said he will support Rex Tillerson's nomination for secretary of state, all but ensuring that the former Exxon Mobil Corp. chief will win Senate confirmation.
"Given the uncertainty that exists both at home and abroad about the direction of our foreign policy, it would be against our national interests to have this confirmation unnecessarily delayed or embroiled in controversy," the Florida Republican said Monday in a statement posted on his Facebook page. "Therefore, despite my reservations, I will support Mr. Tillerson's nomination in committee and in the full Senate."
Rubio had repeatedly expressed doubts about Tillerson's nomination, tweeting after Donald Trump as president-elect announced the choice that "being a 'friend of Vladimir' is not an attribute I am hoping for" from a secretary of state. It was a reference to the close ties Tillerson forged with Russian President Vladimir Putin during his time as Exxon's chief executive officer.
Support from Rubio, a member of the Senate Foreign Relations Committee, means the panel will recommend Tillerson's confirmation in a meeting Monday afternoon, sending it to the Senate floor for final approval despite some Democratic opposition.
Read about Trump's strong hand in confirmations -- QuickTake Q&A
At Tillerson's confirmation hearing on Jan. 11, the nominee didn't assuage Rubio's vocal concerns about human rights in general, and about Putin in particular. Rubio, who has had further discussions with Tillerson since then, said in his statement that the nominee's answers on a number of issues involving Russia and human rights remain "troubling."
"I remain concerned that in the years to come, our country will not give the defense of democracy and human rights the priority they deserve, and will pursue a foreign policy that too often sets aside our values and our historic alliances in pursuit of flawed geopolitical deals," Rubio wrote.
Before it's here, it's on the Bloomberg Terminal.
LEARN MORE