Putin Awaits Call to President Trump as Russia Sees Shared Goals
By and
No plans yet for meeting between two leaders, Russia says

Russia-U.S. ties must respect interests, Lavrov says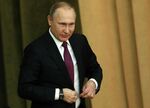 The Kremlin said it hopes to arrange the first official phone call between President Vladimir Putin and U.S. President Donald Trump very soon, as Russia emphasized how much it has in common with the new administration.
While there are no preparations yet for a meeting between the two leaders, "a phone call is being agreed on," Kremlin spokesman Dmitry Peskov told reporters on a conference call Monday. "We expect that the date of such a phone call will be agreed very soon."
Russia's following developments in the U.S. and "we see a lot of overlapping points on fundamental issues relating to the view of foreign policy objectives set out by Donald Trump," Foreign Minister Sergei Lavrov told reporters in Moscow on Monday. They're "closely intertwined with the way President Putin sees the foreign policy goals of the Russian Federation."
Relations between Putin and Trump are being watched closely in the U.S. amid assertions from intelligence agencies that Russia interfered in the election campaign to aid the Republican in defeating Democratic contender Hillary Clinton. Trump, who's repeatedly spoken of improving relations with Russia, said at a Jan. 11 press conference, his first since the election, that "if Putin likes Donald Trump, I consider that an asset, not a liability." He also said that Russia could help the U.S. in defeating Islamic State.
Common Interest
Putin sent Trump a congratulatory telegram a day after his victory in the Nov. 8 election and spoke by phone days later with the president-elect about prospects for improving the "highly unsatisfactory" state of U.S.-Russian relations, according to the Kremlin. Trump said Dec. 23 that Putin also sent him "a very nice letter," urging him to restore the damaged relationship.
Trump floated the idea, in an interview with two European newspapers this month, of lifting U.S. sanctions imposed to punish Russia for its 2014 annexation of Crimea and involvement in the Ukrainian conflict, as part of a deal to reduce the stockpile of nuclear weapons.
Read more: the Putin-Trump relationship
Russia's willing to normalize relations with the U.S. despite the former Obama administration's attempts to complicate them, Lavrov said. "This can take place, of course, solely on the basis of equality, on the basis of respect for each other's interests and on the basis of a search for a balance of those interests," he said.
There's a common interest in fighting terrorism and Russia's "fully prepared" to consider Trump's proposals in this area, Lavrov said. The U.S. president seeks to promote his country's interests, not to interfere in the affairs of other states, he said.
Democrats have bipartisan support for proposed legislation that would limit Trump's ability to reduce sanctions on Russia by requiring any changes to be put to a vote in Congress, Senate minority leader Chuck Schumer said Sunday.
"We repeal sanctions, it tells Russia, go ahead and interfere in our elections and do bad things," Schumer said on ABC News' "This Week with George Stephanopoulos." "That would be terrible."
Before it's here, it's on the Bloomberg Terminal.
LEARN MORE