Philips Lighting Vows to Stick to Traditional Bulbs Amid Decline
By
Dutch spinoff navigating technological disruption to LEDs

Shares drop after quarterly revenue misses analyst estimates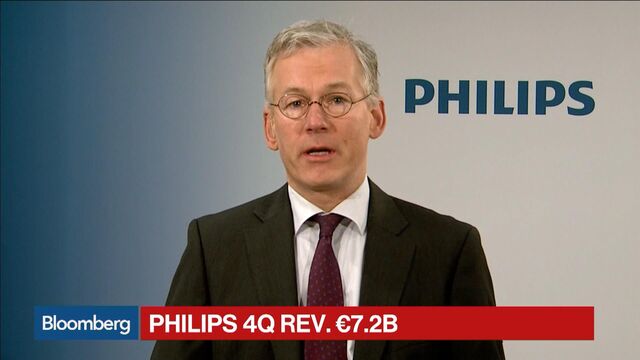 Philips Lighting NV said it wants to be one of the last remaining companies with a conventional lighting business even as fourth-quarter sales declined sharply in the face of competition from energy-efficient light-emitting diodes, or LED, technology.
"Sometimes we are targeting other players, pushing them to exit the market, to take the market share that they leave, " Chief Executive Officer Eric Rondolat said at an earnings press conference Monday, referring to the traditional lighting business.

The Eindhoven, Netherlands-based company reported fourth-quarter sales declined 3.2 percent on a comparable basis to 1.93 billion euros ($2.1 billion) in part due to a 19 percent drop in revenue from conventional lamps, according to a statement. Analysts had expected sales of 1.98 billion euros. Adjusted earnings before interest, taxes and amortization rose 18 percent to 188 million euros.
Spun off from parent Royal Philips NV in May, Philips Lighting is trying to strike a balance between managing the decline of conventional lighting and pushing into LEDs, a market where it's facing tougher competition from Asian producers as well as a drop in prices. Fourth-quarter LED-based sales rose 16 percent to make up 59 percent of the total. Philips Lighting's plan to hang on to the traditional lighting business contrasts with rival Osram Licht AG, which is aiming to sell its Ledvance consumer lighting unit for more than 400 million euros to a Chinese consortium.
Revenue Pledge
"Our strategy is to try to decline less than others, and try to be one of the last remaining companies still supporting this technology to customers, who are still going to need it in the future," Rondolat said.
The company pledged to widen the 2017 adjusted EBITA margin by about 50 to 100 basis points, in line with the medium-term outlook of improving to 11 percent to 13 percent. The margin was 9.7 percent in the fourth quarter. It also reiterated a target to return to revenue growth this year.
The shares fell 2.9 percent to 22.46 euros as of 5:14 p.m. in Amsterdam, valuing the company at 3.4 billion euros.
"They didn't manage to return to revenue growth in 2016, so why would they now? The market is cynical," Degroof Petercam analyst Marcel Achterberg said by phone. "Dividend and a share buyback is apparently not seen as enough compensation."
Philips Lighting said it would return as much as 300 million euros to shareholders through the sale of shares by former parent Royal Philips NV, and pay a cash dividend of 1.10 euros a share. Royal Philips still owns a 71 percent stake, and has said it plans to sell the holding in full over the next several years.
The impact of a sales slump in the Middle East and Turkey "will have a lesser effect" this year and "and this is why we are confident that company will return to growth in later part of 2017," Rondolat said in an interview with Bloomberg TV. "We will see that impact continuing in the first quarter and then softening in the next quarters."
The company had pushed back a target for revenue growth until this year after a third-quarter downturn in those regions.
Shares of Philips Lighting have gained about 12 percent since its May listing, while Osram shares have risen 10 percent during the same period. They were trading down 0.5 percent at 51.55 euros in Frankfurt