Mexico President Demands North America Stay Free-Trade Zone
By and
Seeks orderly migrant policies, free flow of remittances

Pena Nieto announces 10 objectives in talks with U.S.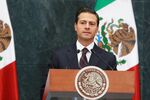 Defying U.S. President Donald Trump's call for border taxes, Mexican President Enrique Pena Nieto said Monday that North American trade should remain free of all tariffs.
The president struck a bold tone in laying out 10 goals for his government in upcoming negotiations with the Trump administration, including demanding an orderly return of Mexican migrants and the free flow of remittances. The speech at his residence in Mexico City was widely attended by lawmakers, business representatives and union leaders and came hours after Trump pledged to impose a "very major" border tax.
"We should preserve free trade between Canada, the United States and Mexico," Pena Nieto said. "The commercial exchange between the three countries must be exempt of any tariff or quota."
Pena Nieto and business leaders promised Mexico will present a united front to defend its interest as the nation begins talks on trade and immigration with the U.S. Mexican Foreign Minister Luis Videgaray and Economy Minister Ildefonso Guajardo will meet in Washington beginning Wednesday with Trump advisers including chief of staff Reince Priebus and Jared Kushner. Their visit will be followed by a meeting between Trump and Pena Nieto scheduled for Jan. 31.
Trump on Monday issued an executive order to withdraw the U.S. from the Trans-Pacific Partnership and said the nation plans to renegotiate the North American Free Trade Agreement.
Pena Nieto's 10 goals for U.S.-Mexico talks:
*Secure a commitment from the U.S. to guarantee humane treatment and rights of Mexican immigrants
*Any "repatriation" of migrants should be done in a coordinated, and orderly manner
*Countries should coordinate to improve the hemisphere's development, and work together to promote Central America's development as that's where much of the growth in migration to the U.S. is coming from
*Ensure the free flow of remittances of Mexican workers in the U.S., and that transfers don't become difficult or expensive
*U.S. should work with Mexico to stop the flow of illegal arms and money south of the border
*North American trade should remain free of all tariffs and quotas
*North American nations should modernize trade to include new sectors such as telecom, energy, ecommerce
*Any accord should create better salaries for workers in Mexico
*Protect the flow of investment into Mexico and defend Mexican and international investment in the country
*The border should unite, not divide the U.S. and Mexico. Investment in border infrastructure should increase
Before it's here, it's on the Bloomberg Terminal.
LEARN MORE