May Industry Plan Gets Cheers From Oracle, Pleas From Retail
By , , and
U.K. seeks boost for innovation, infrastructure as it quits EU

Retailers say lowering property levies is essential, too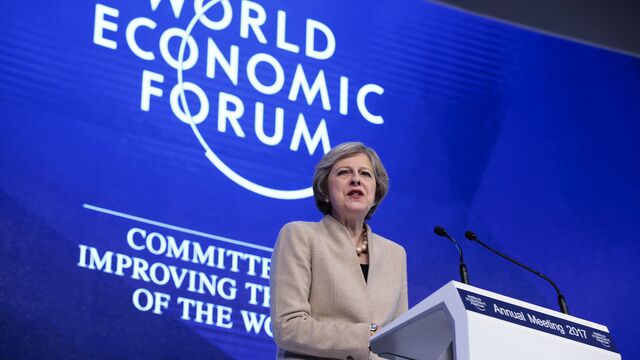 Companies in businesses ranging from health-care to waste-hauling hailed U.K. Prime Minister Theresa May's proposed industrial strategy, while critics said picking national champions risked creating a rush for subsidies.
May's government on Monday detailed plans to cultivate innovation in life sciences, low-emission vehicles, robotics, nuclear power and entertainment. The so-called sector deals are part of a broader plan to boost the economy by investing in research, training and other measures aimed at lifting the country's lagging productivity as it prepares to leave the European Union.
"Today's announcement sends a strong signal that industry's calls for a modern, comprehensive and robust industrial strategy have not fallen on deaf ears," Terry Scuoler, chief executive officer of manufacturing lobby group EEF, said in a statement. "The right industrial strategy will provide the springboard for future British economic success."
Paris-based Suez, which collects garbage and runs recycling systems in the U.K., said it expected to gain from efforts to promote clean energy. Software company Oracle Corp. praised plans to invest in artificial intelligence. Consulting firm KPMG called infrastructure investment a "vital catalyst for economic success."
Automaker Jaguar Land Rover, owned by Tata Motors Ltd. of India, said it welcomed the prime minister's focus on low-emission vehicles and autonomous driving. Honda Motor Co. is looking forward to "working with the government to ensure that the new strategy will help to maintain our competitiveness in the years to come," it said in a statement, following expressions of support for U.K. plants from Japanese rivals Toyota Motor Corp. and Nissan Motor Co.
"The idea of wanting to invest in building out the next wave of skills that will support the next wave of technology is a positive thing," Neil Sholay, head of digital at Oracle for Europe, the Middle East and Africa, said in an interview.
'Pandora's Box'
The Chartered Institute of Personnel and Development, a human resources group, said the strategy failed to address a need for adult education to retrain U.K. work forces. The Institute of Chartered Accountants in England and Wales said the plan was short on specific measures for lifting productivity. Other critics of the plan said it could encourage companies and industry groups to line up with their own calls for help.
"What's envisaged is fairly small scale," said Len Shackleton, professor of economics at the University of Buckingham, "but what worries me is the opening up of the Pandora's Box."
One of the sectors that features in the industrial strategy is already a leader. The U.K.'s entertainment and media business is set to overtake Germany's as the largest in Europe this year, according to a June 2016 report by PricewaterhouseCoopers. The consultant forecast it will be worth 68.2 billion pounds ($84.9 billion) by 2020.

Britain has a long tradition of supporting a sector that "punches above its weight" globally, said Alice Enders, director of research at Enders Analysis. The two latest "Star Wars" movies were largely shot in the U.K.
"This is not a sector that requires a lot of subsidy, it's more so an area where subsidies can make a difference and can meet the cost-benefit test," she said in an interview. "It costs taxpayers something but the benefits outweigh the costs."
Pascal Soriot, chief executive officer of U.K. drugmaker AstraZeneca Plc, said in an e-mailed statement that the government's strategy will be critical for the industry after Brexit and that the right policies will spur the U.K.'s efforts in areas such as the treatment of cancer.
The plan will boost development in genomics, digital health "and other areas of the future where the U.K. has the potential to maximize its scientific lead in what is a global race," said Steve Bates, chief executive officer of the U.K. BioIndustry Association, a trade group. "We've got to do this at pace because the world isn't standing still."
Other Sectors
The government said the five sectors it identified initially are not an exhaustive list. Other industries quickly issued their own calls for support.
Retailers said the U.K. also needs to adjust its taxation policies. Shopkeepers say rising business rates, a form of property taxes, put them at a competitive disadvantage against online merchants whose business has soared.
"Revisiting the business taxation road map and, in particular, the government continuing its work towards a sustainable business rates system, which at present deters growth and investment in communities, will be vital," Helen Dickinson, chief executive officer of the British Retail Consortium, said in a statement.
— With assistance by David Hellier
Before it's here, it's on the Bloomberg Terminal.
LEARN MORE