Here Are Four Signs Investors May Be Warming to Turkish Stocks
by
Central bank moves to bolster lira have boosted equities

Turkish ETF draws largest weekly inflows in two years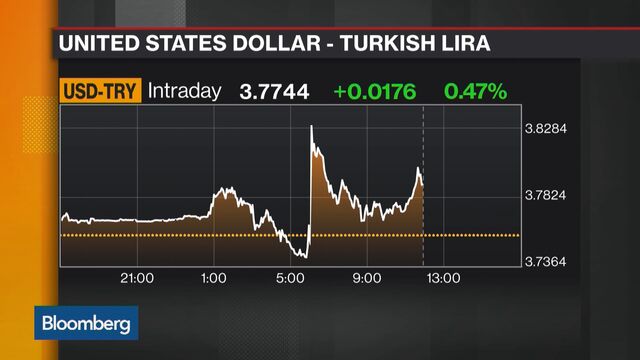 The weak currency, slowing economy and looming referendum on expanded presidential powers that held back Turkish stocks are losing their deterrent effect for investors.
Istanbul's benchmark index has advanced almost 7 percent in less than two weeks as money managers rush to avoid being left behind in a stock surge fueled by creative central bank moves to bolster the lira. The bank set the rally in motion on Jan. 12 by withholding funds to lenders at its regular auction, the first signal that it was ready to act. It quickly followed with limits on cheap funding and the start of currency swap auctions. The bank meets Tuesday, when it's expected to raise its three main rates, according to economists surveyed by Bloomberg.
"The central bank support to the Turkish lira helped investor sentiment," Gulsen Ayaz, head of institutional sales and trading at Istanbul-based Deniz Invest, said by e-mail. The central bank has achieved a rate increase "in disguise" in the past week, Ayaz said, referring to the more than 80 basis points it's added to the weighted average cost of funding.
Investors betting against Turkish companies were wrong-footed by Governor Murat Cetinkaya's first moves, said Ayaz. "The short-covering set a strong momentum at the beginning of this rally; now the continuation hinges on what and whether the central bank delivers."
Here are four signs that Turkish stocks have started to attract investors' attention -- and money:
Greater Inflows
U.S. investors last week bought the most Turkish shares in two years. Traders put $29 million into the iShares MSCI Turkey ETF, the biggest fund focused on the country's equity market. That was the largest weekly inflow since January 2015, according to data compiled by Bloomberg. Overseas investors also bought a net $103 million in Turkish stocks last week.

Rising Valuations
The gap between the future price-to-earnings ratio of Turkey's main equity gauge and that of the MSCI Emerging Markets Index shrank to the narrowest level since May from the widest in about seven years. Even so, Borsa Istanbul 100 Index PE ratios remain below the five-year average.

Moderating Volatility
Traders expect less dramatic price swings in the U.S. Turkey ETF in the coming six months, compared to the past six months. Earlier in January, the exchange-traded fund's six-month historical volatility was higher than implied movements, until the central bank's actions started.

Building Momentum
The Moving Average Convergence-Divergence pattern suggests that stocks have returned to an advancing trend. The white graph in the monthly chart below, called the MACD line, has recently crossed zero and risen above the red line. That means bulls may have started taking control.
Before it's here, it's on the Bloomberg Terminal.
LEARN MORE