Draghi Invokes Italy's Unifier as Dark Past Threatens Europe
By
ECB president awarded with Cavour prize in Santena, Italy

Germany's Merkel to speak on pluralism and identity Monday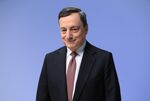 Mario Draghi pointed to one of the fathers of Italian unity as a model of liberal realism and calm as he warned against populist rhetoric and any nostalgia for "dark pasts."
Speaking on the first working day of Donald Trump's U.S. presidency, and at the start of a year of elections in euro-area nations, the European Central Bank president drew parallels between present times and those lived by Camillo Cavour. The Piedmontese politician spearheaded the small Savoy kingdom's effort to lead Italy's unification in the 19th century.
"His mastery in keeping into account with ambitious realism the interests at play, his capacity in holding together the internal and external forces in the country" are a source of inspiration to those who see cooperation as the only solution for problems states cannot solve alone, Draghi said in a speech on Monday in Santena, Italy. That's true "especially in these days full of nostalgia for dark pasts."
The ECB president has been a vocal defender of the European project even as voters show a dwindling appetite for unity and increased support for populist movements that want to claw back independence. Countries including Germany, France and the Netherlands face polls this year in which euro-skeptic and anti-immigration parties could gain increased support.
Merkel Speech
Trump, who won the U.S. election on a populist platform that included pledges to pull back from free trade deals and restrict immigration, launched a barrage of criticism of Europe in the run-up to his inauguration on Friday. He also said more countries would follow the U.K. out of the European Union.
German Chancellor Angela Merkel, who has vowed to maintain unity in the region, will give a speech Monday evening in Wuerzburg, Germany, on the topic of pluralism, identity and open society.
ECB Executive Board member Peter Praet, speaking at the European Commission in Brussels on Monday, reflected on more-recent gloom while discussing the degradation of social welfare during Europe's financial crisis. He called for a policy of stabilization to address such shocks.
"If you mismanage a shock, you can be sure that there will be a lot of social problems, so there is a case for the monetary union to care about structural reforms," Praet said. "Successful stabilization policy is also very important for what we call the social dimensions of economic and monetary union."
Draghi said that, just as when Cavour lived, Italy can only thrive within a European framework built on "mutual benefit and responsibility." He also singled out what he called Cavour's soft-spoken rhetoric, focusing on preparedness and good governance as prerequisites for political success in contrast to the "political-rally brutes" of his times.
"Cavour always knew that Italy's relationship with Europe would be fecund only if the country learned to grow and make progress on its own," he said. "Else, its own independence would be compromised."
— With assistance by Carolynn Look, and Piotr Skolimowski
Before it's here, it's on the Bloomberg Terminal.
LEARN MORE