Brexit Bulletin: It's Going to Be a Long Week
May will hear from the Supreme Court whether she alone can trigger Brexit, before heading to the U.S. to meet Trump.
By and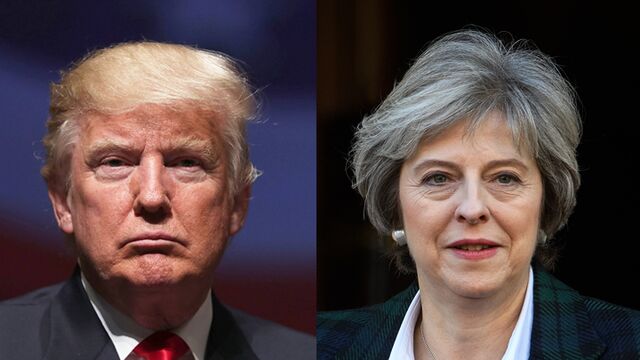 Sign up to receive the Brexit Bulletin in your inbox, and follow @Brexit on Twitter.
Theresa May is about to discover a week really is a long time in politics.
On Monday, the prime minister launches her industrial strategy, before discovering on Tuesday whether the Supreme Court thinks that she, rather than Parliament, carries the power to trigger Brexit. Then it's off to the U.S. to meet President Donald Trump.
'The Economy of the Future'
Seeking to prepare Britain's economy for life outside the European Union, May will say on Monday she wants "sector deals" whereby the government backs areas where it thinks the U.K. can excel. Among them are artificial intelligence and mobile networking.
The strategy is "about the economy of the future, it's about ensuring that business can grow and is encouraged to grow in the U.K.," May told Bloomberg Television last week. "It's also about ensuring that the benefits of prosperity are available across the whole country."
May will announce £170 million ($212 million) in spending on technical education, which will please business. A survey released Saturday of 800 members of the Institute of Directors found their top priority is a skills strategy for the long-term.
The short-term isn't looking great with the EY Item Club reporting on Monday that Britain faces a protracted transition toward more export-driven growth. That means the economy will expand relatively slowly through the end of the decade.
The Supremes Rule
At 9:30 a.m. London time on Tuesday, the Supreme Court will rule on who can trigger Article 50 of the Lisbon Treaty, the EU divorce papers that set the clock ticking on two years of negotiations.

May's government is braced for defeat, which would force it to introduce a bill in Parliament. Labour Party leader Jeremy Corbyn will seek to amend the legislation in a bid to soften May's plan, while The Observer reported on Sunday that a group of cross-party lawmakers are uniting to stop a so-called hard Brexit.
One problem for May is that the Supreme Court's decision doesn't end her legal challenges, according to Bloomberg's Jeremy Hodges and Patrick Gower. A Dublin court is being asked if the two-year exit process can be terminated at a later date, while another lawsuit has been filed arguing June's referendum didn't grant May the authority to pull Britain out of the single market.
Trump Summit 
On Friday, May will become the first European leader to meet with Trump since he took power.
One key challenge will be finding common ground. She casts herself as a champion of free trade and he describes international commerce as a threat to his country. There are also differences over Nato, among other things.
May does have some cards to play. Trump has praised Brexit and so if he sees it as part of the same movement as Trumpism he may be inclined to offer the U.K. a generous post-Brexit trade deal.
Aides already tell Bloomberg he intends to, and that they believe their preliminary discussions with the U.K. encouraged May to be more aggressive in her Brexit plan. The Telegraph reported there may be a way U.S. and U.K. banks can access each other's market more easily, adding on Monday that May wants to streamline labor flows between the two countries.
A Transatlantic trade pact, even if it couldn't be signed until after Brexit, would allow May to show her EU interlocutors that the U.K. can prosper outside of the EU and so demand more from the Brexit deal. On the flip side, EU officials could resent her cozying up to someone who predicted the breakup of their bloc, and seek to punish her for it.
Elsewhere, Australian Treasurer Scott Morrison said talks this week will "begin to lay the foundations" for a new trade deal between his country and the U.K. for after Brexit. But Chilean President Michelle Bachelet told Bloomberg she would prefer to update her country's 2002 trade pact with the EU rather than prioritize an agreement with Britain.
"Brexit has a two-year time span. There's time to see how we'll continue our relationship. We have very good historic, political, diplomatic and economic relations with the U.K."
A Parliamentary Problem
Another challenge emerging on the continent is that the region's Socialist Party last week lost control of the European Parliament, ending a long-standing power-sharing agreement in the body which must rubber-stamp any Brexit deal. That could hinder May's preparations, Jonathan Stearns reports.
"The chance of a Parliament 'No' on a Brexit deal is likely to be higher without a grand coalition than with one," said Glyn Ford, a former U.K. Socialist member of the Parliament who is now executive director of consultancy Polint. 

Brexit Bullets
Bankers worry post-Brexit transition won't be long enough
Nissan was only automaker to receive a Brexit letter, says minister 
Hitachi says it may start to be more affected by Brexit once U.K. contracts run out and it starts needing to export
France's Marine Le Pen says Brexit will have a "domino" effect across the continent
International Regulatory Strategy Group says Brexit talks should focus on delivering a bespoke U.K.-EU deal
Starwood Capital is said to be in talks to sell its stake in a planned east London tower
Leave Means Leave group says 1 million EU immigrants could move to UK in next two years, says Daily Express.
On The Markets
The pound's biggest rally in 24 years is spurring predictions that the worst is over for the currency, at least in the short term.
Kames Capital is turning "neutral and slightly positive," while Global FX Capital says the improving economy and accelerating inflation are boosting the case for a stronger currency.

Buyout firms are set to be a big winner from Brexit, according to Guy Hands, the chairman of Terra Firma Capital Partners.
"Sadly, and this is always one of the strange things about business, I think it's probably a bad thing for the majority of people and bad for the country, but I think, for my business, it's probably going to be good," Hands told Bloomberg Television.
And Finally…
Brexit the Musical is spreading its wings. The show, featuring actors playing multiple parts such as Foreign Secretary Boris Johnson and former Prime Minister David Cameron, is opening in theaters across London after a dry run. Peter Wilby has been to see it, and wrote in the New Statesman that it's "entertaining, engaging and amusing.''
One more thing: If you missed the World Economic Forum's annual meeting in Davos, Switzerland, last week, our Twitter Moment will help you catch up with all the Alpine Brexit-talk. 
For more on Brexit follow Bloomberg on Twitter, Facebook and Instagram, and see our full coverage at Bloomberg.com
Before it's here, it's on the Bloomberg Terminal.
LEARN MORE