'Idiosyncratic' Risks Aren't Necessarily Good for Active Stock Investors This Time
They could actually be harmful.
By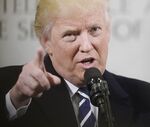 Donald Trump's penchant for unpredictability, such as taking to social media to slam individual industries or even companies, means idiosyncratic stock volatility — risk not explained by industry- or economy-wide forces — is set to rise during his term.
Active investors have traditionally thrived in such an environment, but analysts at Sanford C. Bernstein Ltd. argue that looks less likely this time around because Trump's pronouncements may not be "potentially forecastable."
"One aspect of all this presidential tweeting that we can actually forecast is that the component of portfolio risk accounted for by idiosyncratic stock-level vol should be higher under a Trump presidency than it was before," Inigo Fraser-Jenkins and his colleagues wrote in a Jan. 20 note.

The increase in individual stock differentiation is in stark contrast to the proportion of risk explained by the market at 17 percent — the lowest since the first quarter of 2007.
Since his campaign began, President Trump has caught Corporate America off guard by taking to Twitter to attack specific names and sectors.
Last month, defense stocks plummeted as he took aim at Lockheed Martin Corp.'s F-35 fighter jet, the Pentagon's most expensive weapons system. 
That followed his feud with Boeing Co.: 
The auto industry was also a target:
Pharmaceutical and biotech companies couldn't dodge the bullet either, with Trump saying "they're getting away with murder" at a press conference in New York.  
Usually lower correlations between individual stocks should be "overwhelmingly supportive" for active management. However, the analysts say that's only the case when investors have "an edge in forecasting," driven by factors such as industry trends, the business cycle or accounting analysis, rather than "off-the cuff presidential tweeting."
"To the extent that some of this single stock volatility is not fundamental-driven it could well harm active portfolios," the Bernstein analysts conclude. "So investors need to watch what kind of idiosyncratic risk they have."
Before it's here, it's on the Bloomberg Terminal.
LEARN MORE