Chinese Are Celebrating Lunar New Year by Escaping China
Bloomberg News
Young Chinese opting for sightseeing instead of family feasts

Airlines adding thousands of flights to Japan, Southeast Asia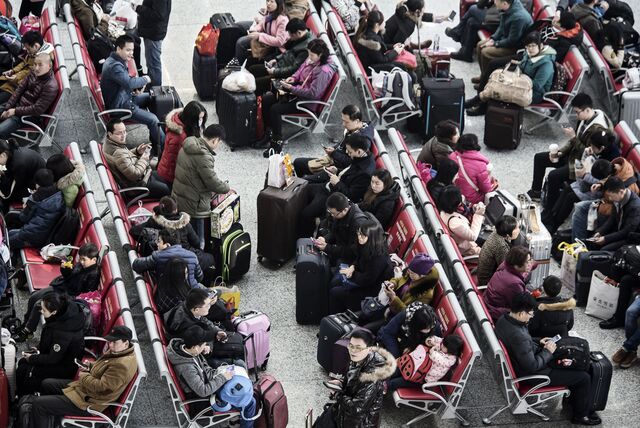 Shi Ying won't be making the traditional pilgrimage back to Shanghai to celebrate the Lunar New Year holiday with her extended family. Instead, they're all going to Japan for shopping and sightseeing.
That new custom lets her family bypass the mobs, clogged roads and subways, lousy customer services -- and boredom -- that can mark holidays at home. During the past few celebrations, Shi and her relatives left China for Singapore, Malaysia, Thailand and the U.S.

"The last thing my parents want for the Chinese New Year is a cheerless holiday with the three of us staying home in Shanghai," said Shi, 30, who works for a non-governmental organization in Beijing. "Going overseas during the Spring Festival costs about the same as going to some domestic tourist spots."
The essence of China's seven-day holiday, also called Spring Festival, is morphing as rising incomes and an expanding network of international flights prompt more people to go abroad -- the equivalent of Americans choosing Bermuda over the Midwest for Thanksgiving. Outbound travel for the holiday break is expected to top a record 6 million passengers, with airlines hauling near-full loads to Japan, South Korea and Southeast Asia.
"Chinese New Year is a major international peak for the Chinese airlines," said Steve Saxon, a Shanghai-based partner at consultant McKinsey & Co. "For many, this is one of the only two opportunities to take a long holiday during the year."
'Swim in Money'
The Spring Festival shuts down the world's second-biggest economy for a week as hundreds of millions of factory and office workers leave their adopted homes in Shenzhen or Beijing to reconnect with their ancestral ones, often on the opposite side of the country. Thousands more expatriates return.
This year's celebration, from Jan. 27 through Feb. 2, will see the biggest mass migration of people on Earth. More than 414 million Chinese will ride in planes and trains -- as if everyone in the European Union was on the move.
QuickTake China Readies for World's Biggest Human Migration

About 58.3 million people are expected to fly, representing a 10 percent increase from last year, according to estimates by the Civil Aviation Administration of China. Chinese airlines generate about 20 percent of their revenue during this period, Saxon said.
Chinese will travel to 174 destinations outside mainland China for an average of 9.2 days during the holiday period, according to online travel service Ctrip.com International Ltd.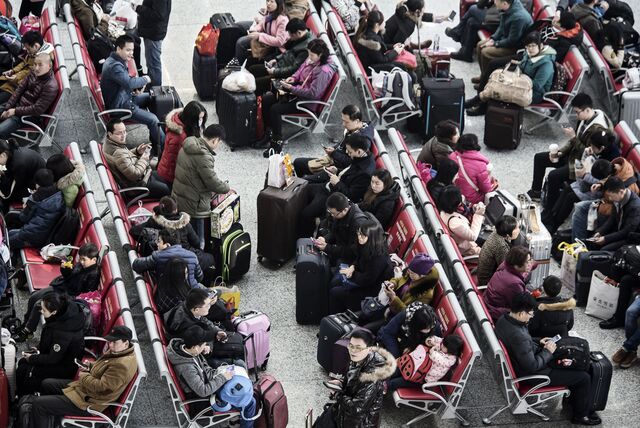 "Any airline should be able to swim in money during a Chinese traveling holiday," said Will Horton, a Hong Kong-based analyst at CAPA Centre for Aviation.
GDP Growth
Fueling those excursions is an economy growing annually by at least 6.7 percent since 1990, giving people more money to spend. Disposable income for urban households rose 165 percent from 2006 to 2015, reaching about 31,195 yuan ($4,551), according to China's National Bureau of Statistics.
Instead of going back to her hometown in the northeast China forest, Xi Chunhui is going to Macau, Singapore and Hong Kong for 11 days with a friend.
"The Spring Festival celebration is the same old thing every year at home," said Xi, 27, an editor for an internet portal in Beijing. "I don't think me not being there with them will kill the mood."
Read more: The World's Biggest Human Migration: QuickTake Q&A
Going sightseeing abroad also is a consequence of the government's generations-long policy restricting most families to one child, said Catherine Lim, a Singapore-based analyst with Bloomberg Intelligence. A more-affluent younger generation now wants to see the world, she said.
"When your entire family size shrinks, there really isn't much to do" at home, Lim said. "They want to spend more money -- particularly the younger generation -- on experiencing new destinations rather than buying the biggest Hermes bag."
China is the biggest source of overseas travelers in the world, with 128 million people spending $292 billion on their trips in 2015, according to the World Tourism Organization.
Discounts Ending
That's been a boon to the nation's airlines, with demand running so high that discounts are ending as many as 50 days before takeoff, according to Ctrip.com. The top-dollar tickets help carriers make up for the massive price cuts offered during slow seasons.
China Southern Airlines Co., Asia's biggest carrier, added nearly 3,600 flights during this peak travel season -- and expanded services to Australia and New Zealand, the Guangzhou-based airline said. Subsidiary Xiamen Airlines Co. is adding more than 100 flights to Southeast Asia destinations such as Bali and the Maldives, said Hu Nan, a manager for international business.

China Eastern Airlines Corp., based in Shanghai, added 400 flights starting this month mostly to connect second-tier cities with Okinawa, Japan; Bangkok and Chiang Mai, Thailand; and Cebu, Philippines.
"All the airlines in China, not just us, are throwing in all resources to brace for the Chinese New Year travel," Hu said. "There is no slack there."
Easier Visas
On the destination sides, Japan, Australia and even Israel are rolling out the welcome mats for Chinese tourists by offering multiple-year, multiple-entry visas to Chinese passport holders. The United Arab Emirates is going a step further by offering visas upon arrival, according to state-run Xinhua News Agency.
Chinese visitors to Japan jumped 28 percent last year to 6.4 million -- the most from any country, according to the Japan National Tourism Organization.
When they arrived, they spent 1.47 trillion yen ($12.8 billion), according to the separate Japan Tourism Agency. Chinese perceive Japanese electronics, luxury items and consumer goods like cosmetics and toothpaste to be of better quality than those made at home.
Shi's family will fly to Japan on Jan. 27 for a seven-day trip in Kyoto and Tokyo. Besides the tourist attractions, they plan some serious shopping -- for cosmetics, clothes, rice cookers and high-technology toilet seats.
"My parents really get a kick out of traveling during the Chinese New Year," she said. "Let's hope I can cap my spending for the whole trip at 80,000 yuan."
Watch Next: Tuniu CFO: Online Travel Is Growing Fast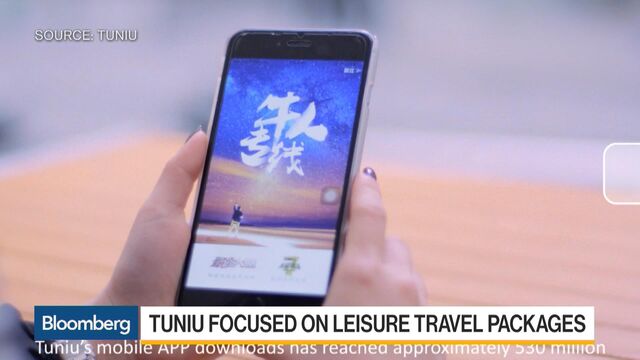 — With assistance by Dong Lyu, Bruce Einhorn, Lee J Miller, Kyunghee Park, and Chris Cooper
Before it's here, it's on the Bloomberg Terminal.
LEARN MORE