Romania Poised for Referendum After Biggest Protests Since 2015
By and
Proposals for pardons, changes in criminal law prompt protests

President says plebescite needed as issue took on importance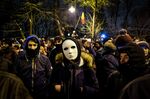 Romania may be headed for a referendum on changes to criminal legislation after plans by the new government to pardon certain offenses set off nationwide protests.
President Klaus Iohannis said he plans to initiate the necessary steps to hold a plebiscite, which would also require consultations with parliament. Authorities came under pressure after some 30,000 people demonstrated in Bucharest on Sunday evening in front of the government headquarters, lashing out against planned changes to criminal legislation that judiciary officials warned could weaken the rule of law and disrupt efforts to fight graft.
"This issue has become of national importance and there's wide interest in the changes in the criminal code and the granting of pardons," Iohannis said in a speech from Bucharest on Monday. "I will start the procedures for a referendum so that citizens will be able to express their views and say if they agree with these changes or not."
The largest protests to sweep the eastern European nation since 2015 mark the first test for its government less than a month since it took office. The showdown has escalated as the ruling coalition led by the Social Democrats stood by plans to grant pardons to prisoners with jail sentences under five years and to decriminalize other offenses, including corruption-related ones like abuse of office.
While Social Democrat leaders have cited overcrowded prisons as grounds for their proposal, chief prosecutors and judiciary associations said the planned changes -- made by way of emergency decrees -- are "unacceptable" and target specific people, such as high-ranking politicians probed for corruption.
The moves would cast a pall over an unprecedented fight against graft in Romania, spearheaded over the past four years by its anti-corruption directorate, which has ensnared some of the nation's top officials. Social Democratic leader Liviu Dragnea is serving a two-year suspended prison sentence for electoral fraud and faces another probe for abuse of office. Other politicians have also been jailed or are under investigation.
Political turbulence in 2015 toppled then-Prime Minister Victor Ponta, when demonstrators outraged over corruption and poor health-care services protested after a deadly night-club fire.
Reversing Progress?
"Passing such ordinances would reverse the anti-corruption progress made in the last years and would lead to a deterioration of the country's fundamentals, negatively impacting foreign investors' sentiment toward Romania," said Anca Maria Aron, a Bucharest-based economist at UniCredit Bank AG.
The leu, which has gained 0.9 percent this year, weakened 0.1 percent to 4.5022 against the euro at 6:44 p.m. in Bucharest.
The president on Friday urged Premier Sorin Grindeanu's cabinet to withdraw the proposals, which also include an early release of prisoners older than 60 years, regardless of the offense committed. Opposition parties Save Romania Union and the Liberals are considering initiating a no-confidence motion against the government, although they lack a parliamentary majority and called for the Justice Minister's resignation.
"I want Romania to be a strong nation of free and proud people," Iohannis said on Monday. "Romanians should be led by competent and upright politicians. To me, anything less is too little and to reach that objective no price is too high."
Dragnea, who was blocked from becoming prime minister late last year because of the criminal conviction, responded by accusing the president of attempting to start a "coup d'etat."
"Iohannis wants to shackle the power that has legitimacy granted by the popular vote," Dragnea, who's also parliament speaker, said on Facebook. "The president acted outside the law by seeking personal political gain and asking for constitutional nonsense: the withdrawal of some decrees, especially decrees that haven't been passed."
Before it's here, it's on the Bloomberg Terminal.
LEARN MORE