Key Republicans Drop Opposition to Tillerson at State Department
By
Graham, McCain had been holdouts on Tillerson as top diplomat

President plans to attend Republican retreat in Philadelphia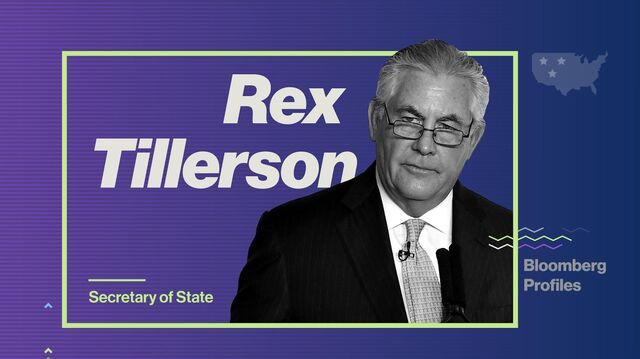 Senators John McCain and Lindsey Graham said Sunday they will vote for President Donald Trump's secretary of state nominee, despite ongoing concerns about Rex Tillerson's past dealings with the Russian government and President Vladimir Putin.
Their decisions appear to open the way for Senate confirmation for Tillerson, the former chief executive officer of Exxon Mobil Corp., whom no Senate Democrat has said they will support. 
Such confidence was exuded by Senate Majority Leader Mitch McConnell in an interview Sunday on "Fox News Sunday." He predicted all of Trump's cabinet nominees will win Senate approval.
"There's great enthusiasm," said the Kentucky Republican, adding that he's also confident that, "we'll get a Supreme Court nominees confirmed. I expect an outstanding nominee some time soon."
"I will be voting in favor of his nomination," McCain said of Tillerson during an interview Sunday on ABC's "This Week with George Stephanopoulos." He said it wasn't an easy call, but that the incoming president deserves the "benefit of the doubt."
'Strong and Engaged'
In a later joint statement , the Arizona senator and Graham of South Carolina said that the views Tillerson has expressed privately and publicly during the confirmation process give them confidence he will be a "champion for a strong and engaged role for America in the world."
The Foreign Relations Committee is set to vote on Tillerson's nomination on Monday. Despite Sunday's announcements by McCain and Graham, another Republican, Senator Marco Rubio of Florida, remains publicly unsettled on Tillerson. 
Rubio could join with Democrats on the committee to prevent a favorable vote on Tillerson. But McConnell can still bring his nomination to the floor. Barring any other unexpected Republican opposition to Tillerson, McCain's and Graham's support assures he will get the needed 50 votes.
Senate Minority Leader Charles Schumer, also interviewed on ABC, said he'll wait for the debates on the Senate floor to decide how he'll vote on the nominees, but noted that Democrats on their own don't have enough seats to block any cabinet picks.
"If we can beat any of them, that'll be up to Republicans," said Schumer, who said Democrats have concerns about eight or nine nominees.
So far, the Senate has confirmed two of Trump's picks, both on Friday. James Mattis was approved as defense secretary in a 98-1 vote, and John Kelly to run the Homeland Security Department 88-11.
A confirmation vote on Trump's choice to be CIA director, Representative Mike Pompeo, is set for Monday night. McConnell complained in his interview that Pompeo had been delayed.
"What's been unfortunate is that all I asked for of my colleague, Senator Schumer, was to treat President Trump the same way we treated President Obama," he said. "Obviously, we were not happy with any of his nominees either. But he got seven of them on the first day. We got two."
In a separate interview on NBC's "Meet the Press," Schumer said that "there are very serious questions about Mike Pompeo," adding that "to have a discussion for a few days when this man will have enormous power and be in office maybe for up to four years make eminent sense."
Trump is scheduled to meeting Thursday with Senate and House Republicans at a policy retreat in Philadelphia, his chief of staff Reince Priebus said on "Fox News Sunday."
Before it's here, it's on the Bloomberg Terminal.
LEARN MORE