Valls, Hamon Qualify for French Socialist Primary Run-Off
by
Montebourg finishes third and endores Benoit Hamon in run-off

Socialist candidate seen unlikely to win presidential vote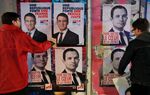 Former education minister Benoit Hamon emerged as the front runner in the French Socialist Party's primary, boosting the presidential chances of independent candidate Emmanuel Macron who could benefit from Socialist voters who find Hamon too left wing.
The Socialist Party's candidate in this April's presidential election will be decided in a run-off next Sunday between former Prime Minister Manuel Valls and Hamon. In the first round of voting, Hamon was first with 36.1 percent with Valls on 31.2 percent. Former Industry Minister Arnaud Montebourg was third with 17.9 percent and endorsed Hamon, saying that the primary shows Socialist voters want more leftist policies.
"The momentum is certainly with Hamon, having taken the most votes and receiving the endorsement of Montebourg," Bernard Sananes, president of pollster Elabe, said on BFM TV. "They represent opposition to the record of this government."
Whoever emerges from next Sunday's run-off faces an uphill task, with polls showing that the Socialist candidate will finish a distant fourth or fifth in the first round of the presidential election on April 23.
Hamon's signature issue is a basic universal income, which has been condemned as too expensive by the six other candidates in the primary. He also wants to ban diesel cars, which are popular among French motorists and are produced in volume by French carmakers. Polls have repeatedly shown that while he appeals to committed Socialist Party members, he has less appeal with centrist voters.
Almost every poll taken over the past month has shown that nationalist Marine Le Pen and Francois Fillon from the center-right Republicans would take the top two places in the first round of the presidential election, qualifying for the May 7 run-off. Valls would take 10 percent in the first round, according to Ipsos poll Jan. 19, limiting Macron's score to 19 percent. But Hamon would take just 7 percent, allowing Macron to garner 21 percent, just four points behind Fillon, Ipsos said.
"The French left is about to designate its Jeremy Corbyn," Jean-Baptiste de Froment, a Republican councilman for the city of Paris, said on Twitter, referring to the U.K. Labour Party leader who has led his party to left. "Good luck with that."
Valls said in his speech Sunday night that he represented a "credible left" over a left of "irresponsible and exorbitant promises." Valls and Hamon will debate on Jan. 25.
Hamon and Montebourg were part of a group of ministers who quit the government of President Francois Hollande in 2014 in protest at what they saw as a pro-business turn led by then Prime Minister Valls.
Voters Sunday "massively and seriously condemned the policies of this government," Montebourg said after results were announced. "They want the left to return to the path of the left."
Between 1.5 million and 2 million voters cast ballots in the primary, the primary authority said. That compares with more than 4 million voter for the primary of France's Republican party that took place in November.
Hollande, faced with worst approval rating of any French president, announced late last year that he wouldn't seek re-election, opening the way for Valls to quit as prime minister and run for president. Hollande wasn't in France for Sunday's primary, instead traveling to Latin America for official visits to Colombia and Chile.
Before it's here, it's on the Bloomberg Terminal.
LEARN MORE