French Socialists Set to Surrender Center to Rival Macron
By and
Former minister Hamon leads contest for Socialist nomination

Le Pen, Fillon, Macron in three-way race for presidency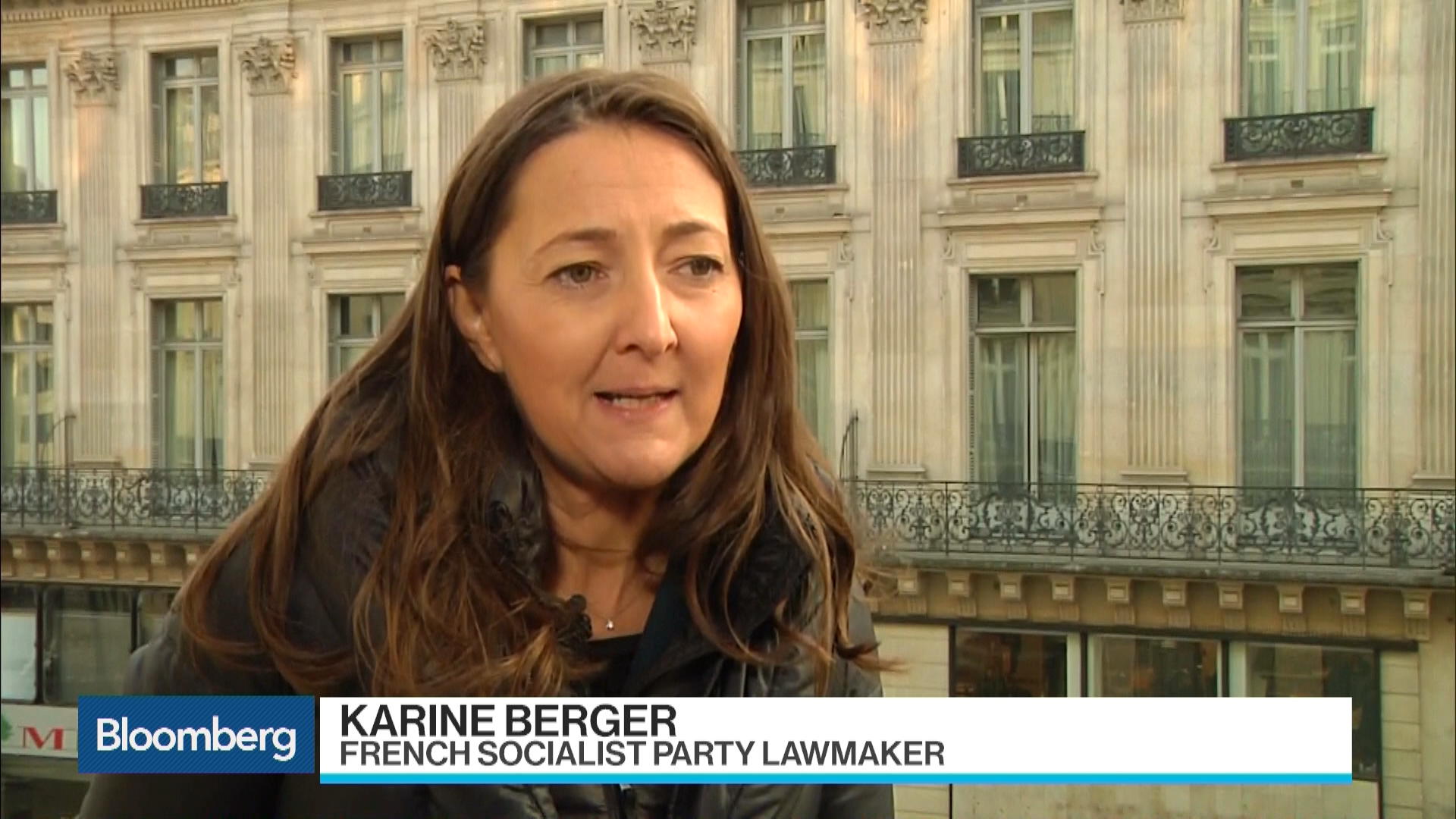 French Socialists made one-time Education Minister Benoit Hamon the front-runner in their party's presidential primary, suggesting independent candidate Emmanuel Macron's campaign may be in for a boost.
Having wooed his party's base with a promise of a guaranteed universal income, Hamon won 35.9 percent of the vote in the first round of the Socialist contest Sunday, compared with 31.2 percent for former Prime Minister Manuel Valls. Arnaud Montebourg, who placed third with 17.3 percent of the vote, endorsed Hamon for the Jan. 29 runoff, saying current results show the party base wants less austerity and more traditionally Socialist policies. Four other candidates divided up the rest.
"By turning to the left the Socialists are opening a big space for Emmanuel Macron," said Yves Marie Cann, a pollster at Elabe in Paris. "Hamon now has the advantage in the primary and if he doesn't make a mistake, if there isn't an upset, that's good for Macron. This is the moment that some Socialist lawmakers are waiting for to defect."
Whoever emerges from next Sunday's final vote faces an uphill task, with polls showing that the Socialist candidate will finish a distant fourth or fifth in the first round of the presidential election on April 23. The campaign directors of Hamon and Valls both said on Europe1 radio Monday that their candidates are ready to support the winner if they lose out on the nomination.
The promise of a guaranteed income of 750 euros ($803) a month was Hamon's signature issue during the primary campaign. All six of his rivals condemned it as too expansive in a country struggling to revive economic growth and battle an unemployment rate of 10 percent. He's also called for banning diesel cars and decriminalizing cannabis.
"The desire of the French is clear: to turn the page and head into the future with new and consistent solutions," Hamon said on France Inter radio. "I don't want a left that thinks it's acceptable to show weakness when confronted with our opponents and special interests."
Meeting Merkel
Almost every poll taken over the past month has shown that nationalist Marine Le Pen and Francois Fillon from the center-right Republicans would contest the May 7 presidential runoff. Valls would take 10 percent in the first round, according to a major Ipsos Sopra Steria poll, limiting Macron's score to 19 percent. Hamon would take just 7 percent, allowing Macron to garner 21 percent, just four points behind Fillon, the survey showed.
Jean-Luc Melenchon -- a former Socialist now backed by the Communist Party -- has support of between 14 and 15 percent, the same poll showed.
Fillon is in Berlin Monday where he'll meet Chancellor Angela Merkel while Le Pen was also in Germany over the weekend, attending a meeting in Koblenz of anti-European Union parties from across the continent.
Valls appealed to moderates as the first-round primary results came in Sunday after a campaign focused more on law and order issues, and controlling the budget deficit.
"A very clear choice is being offered now," the former prime minister said. "The choice between defeat and a possible victory. The choice between unattainable promises and a credible left."
France's Corbyn
The prospect of a Hamon victory drew comparisons with Jeremy Corbyn, the leader of the British Labor Party, who has pulled his party to the left and rejected the more centrist policies his predecessor Tony Blair promoted to broaden the party's appeal.
"The French left is about to designate its Jeremy Corbyn," Jean-Baptiste de Froment, a Republican councilman for the city of Paris, said on Twitter. "Good luck with that."
In the end, 1.6 voters cast ballots in the primary, compared with the more than 4 million who turned out for the primary of France's Republican party that took place in November.
President Francois Hollande who announced late last year that he wouldn't seek re-election, wasn't in France for Sunday's contest. Instead he was in Latin America for official visits to Colombia and Chile.
— With assistance by Ben Sills, and Helene Fouquet
Before it's here, it's on the Bloomberg Terminal.
LEARN MORE