Trump Team in Talks with U.K. on Post-Brexit Trade Deal
By and
Theresa May to meet Trump Friday, expects to discuss trade

Talks may be encouraging 'hard Brexit,' Trump aide says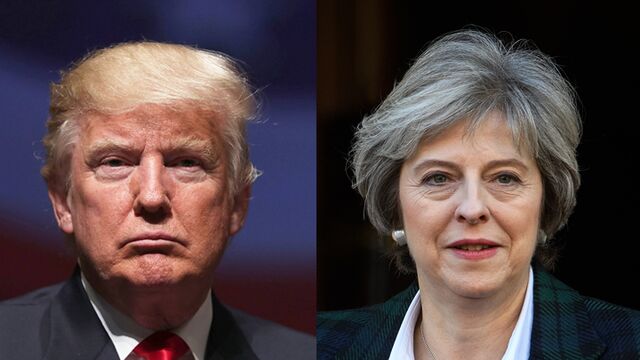 The Trump administration will lay the groundwork this week for a trade deal between the U.S. and the U.K. that would take effect after Britain leaves the European Union, a White House aide said, as Prime Minister Theresa May becomes the first foreign leader to visit the new president.
May last week declared Britain is "open for business" as she announced plans to pursue a clean break with the EU, paving the way for the U.K. to eventually strike new trade accords with the continent and other countries. May said she will travel to Washington and speak to President Donald Trump on Friday.

"We'll have an opportunity to talk about our possible future trading relationship, but also some of the world's challenges that we all face -- issues like defeating terrorism, the conflict in Syria," and NATO, May said in an interview on the BBC's "Andrew Marr Show" on Sunday. "When I sit down with Donald Trump, I'm going to be talking about how we can build on that special relationship."
Trump officials believe their discussions with May's government encouraged her to be more aggressive in exiting the EU. She can use any American support to argue the U.K. will prosper outside the bloc although she risks inflaming tensions with European leaders if they suspect her government is actively negotiating trade deals while still an EU member.
Johnson Meetings
Two of President Donald Trump's senior advisers, Steve Bannon and son-in-law Jared Kushner, met with U.K. Foreign Secretary Boris Johnson in New York on Jan. 8. The three are preparing for the future pact, the aide said, requesting anonymity because the discussions aren't public.
Read more: What Makes a 'Hard Brexit' Harder Than a Soft One
Bannon, Trump's National Security Adviser Michael Flynn, and other administration officials have also met with British defense and intelligence leaders, the aide said.
President Barack Obama warned in April that if the U.K. pursued Brexit, the country would go to the "back of the queue" for U.S. trade deals. U.K. voters chose to leave the EU anyway in a June referendum, and Trump now appears to be scrapping Obama's position on the matter.
Trump's team is also considering a deal to reduce barriers between U.S. and British banks, the Sunday Telegraph reported, citing officials from both sides.
U.S. Envoy
Trump has tapped Woody Johnson, the billionaire owner of the New York Jets NFL team, to serve as U.S. ambassador to the U.K., a person familiar with the matter said on Jan. 19.
May and Mexican President Enrique Pena Nieto will make visits to the U.S. this month to meet with Trump, administration officials said.
May will meet with Trump on Jan. 27, White House Deputy Press Secretary Sarah Huckabee said on Saturday. Pena Nieto will meet with Trump on Jan. 31, said Press Secretary Sean Spicer. Neither provided further details on the meetings.
Trade, immigration and Trump's campaign promise to build a wall on the southern U.S. border loom large in the president's relations with Mexico. Brexit, the campaign against Islamic State terrorism, the Syrian civil war and sanctions against Russia are key issues in relations between the Trump administration and Britain.