What to Expect from Trumponomics: QuickTake Scorecard
By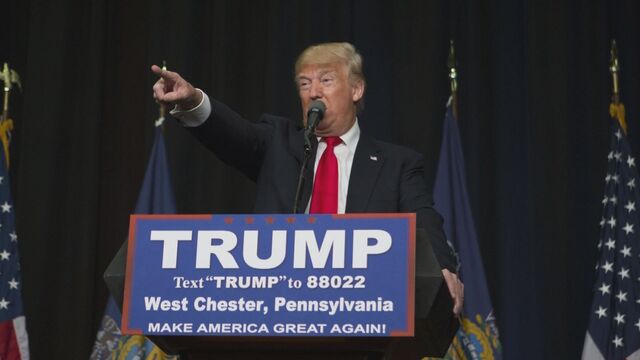 Early in his first press conference as president-elect, Donald Trump said he would make pharmaceutical companies bid for U.S. business because they were "getting away with murder" on drug prices. Indexes that track pharmaceutical stocks plummeted. It was classic Trump, doing what economists call "jawboning," or moving markets today with threats of action in the future. 
Presidents and Federal Reserve chairs have jawboned before, usually from behind a podium or in a carefully crafted statement. But when Trump wants to cut the cost of the next version of Air Force One or stop companies from sending jobs overseas, he bullies, intimidates and threatens via Twitter. His policies change by the week, but it's clear they won't fit any classic economic mold. What's less certain is whether this ad-hoc approach will yield the results Trump advertises. Here are some basics of Trumponomics: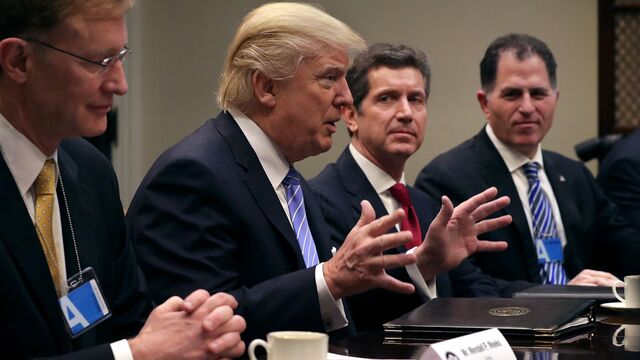 Employment
Like other Republicans, Trump sometimes talks about how economic growth creates jobs. More often, however, he talks as if there is a fixed sum of jobs in the world. Jobs are "taken" by other countries, to be taken back through negotiation. When he cajoles companies to drop plans to invest in factories abroad, he uses a classic European approach known as dirigisme, which elevates the state's interests over those of employers or free-market forces to influence corporate investment. Here, jawboning has created results, albeit minuscule in an economy that employs 152 million people and regularly creates more than 150,000 new jobs a month. Since the election, Fiat Chrysler, Wal-Mart, Lockheed Martin, Sprint and a half-dozen other large employers have pledged to hire more than 200,000 new workers. Critics say those numbers are illusory because companies are repackaging existing plans into something Trump can claim credit for as a way of currying favor.
Read more: Trump-Friendly Job Boasts Don't Quite Add Up for GM, Wal-Mart
Read more: Trumponomics Is Scarier When You Actually Study It
Trade 
Trump is a protectionist on trade, notwithstanding his advisers' disclaimers. In his first week in office, he withdrew the U.S. from the 12-nation Trans-Pacific Partnership that President Barack Obama had spent years negotiating. Free-trade talks with the European Union are likely to meet the same fate, yet Trump aides say he is open to a two-way trade deal with the U.K. The new president met with Detroit auto executives to repeat his threat to impose a 35 percent tariff on goods they send from plants in Mexico to the U.S. His spokesman later said a 20 percent tax on imported goods was one idea in a buffet of options to pay for a wall along the Mexican border. Trump also reversed Obama administration decisions by agreeing to open negotiations over construction of the Keystone XL and Dakota Access pipelines -- and insisting that developers use American-made materials. Having called the North American Free Trade Agreement the "single worst trade deal ever approved in this country," he invited the presidents of Canada and Mexico to Washington to negotiate a new treaty, then dis-invited Mexico's leader after he refused to pay for the border wall. Trump says he wants to confront China more forcefully through the World Trade Organization. He has also said he would instruct his Treasury secretary to declare that China manipulates its currency to sell products more cheaply to the U.S. China so far seems impervious to jawboning; it has yet to respond with any concessions.
Read more: Why Trump's 'Big Border Tax' Is Taken Seriously -- QuickTake Q&A
Read more: Trump Said He'd Rip Up Trade Deals and Is Doing It -- QuickTake
Fiscal Policy
The new president says he wants to preserve Social Security and Medicare benefits, which aligns him more with Democrats than Republicans on entitlements. He is also wildly out of step with his party's fiscal hawks in calling for investment of as much as $1 trillion to revitalize public works, a classic liberal approach to governing and one way to reward the blue-collar workers who helped elect him. He sometimes says he will borrow money to do this while interest rates are low. His advisers say it could be done through tax credits. Trump hews to the Republican standard of lowering taxes to stimulate growth. His plan calls for individual and corporate tax cuts that independent analysts say would balloon the deficit by at least $4 trillion and as much as $6 trillion over 10 years. To pay for the cuts, Trump has said that, like congressional Republicans, he prefers "dynamic scoring," a wonky way of saying tax cuts will create economic growth, increase tax revenue and make spending cuts unnecessary. Trump would also assume increased tax revenue from regulatory cutbacks -- a move without precedent in government budgeting.
Read more: How Trump Might Try to Fix Bridges, Highways -- QuickTake Q&A
Read more: U.S. Budget Deficits Face Fatter Future in Trump Era -- QuickTake
Monetary Policy
Trump often singled out the Fed for scorn during the presidential campaign. He accused Fed Chair Janet Yellen of keeping interest rates "artificially low" to improve Obama's record on jobs. Trump's views seem influenced by his personal experience as a real-estate developer; he is part of a generation accustomed to borrowing at much higher rates, as he did in the 1980s and 1990s. Under Yellen, the Fed has come around to the idea that the natural rate of interest – what the rate would be, without any policy intervention – is much lower than it has been historically, and perhaps even below zero. At times, Trump shows libertarian instincts on monetary policy by supporting legislation to reduce the central bank's independence with regular audits of policy deliberations.
Read more: Why the Fed Liftoff Finally Budged, a Year Later -- QuickTake
Read more: Monetary Offset Defined -- the Fed's Wet Blanket -- QuickTake Q&A
Regulation
True to his business roots, Trump says he believes regulation stifles economic growth. On Jan. 24, he signed an order to expedite environmental reviews on high-priority construction projects. He followed that with another order directing agencies to eliminate two rules for everyone new one they issue. He promises to roll back the Dodd-Frank Act on financial reform, the health-care plan known as Obamacare and Obama's clean power plan. He has said he would abandon U.S. commitments under the 195-nation Paris climate-change accord. He has also said he would preserve rules that protect health and safety. He doesn't seem to share others' worries that deregulation could worsen climate change or invite another financial crisis. Deregulation fits his understanding of how economic growth is created: Businesses create jobs; by lowering taxes and cutting regulations, businesses will create more jobs. Since the election, some companies that have publicized new jobs have cited the promise of lower regulation under Trump -- a classic jawboning result.
Read more: To Undo 'Too Big to Fail,' Buffers and Living Wills -- QuickTake
Read more: Repealing Obamacare Is Harder Than It Sounds -- QuickTake Q&A
Read more: Killing Obama's Rules? Congress Has an Act for That -- QuickTake
Debt
Trump likes to call himself the "king of debt," and made waves when he suggested he'd try to refinance the $20 trillion federal debt by buying it back at a discount on the open market. Government debt experts expressed alarm, with former Obama Treasury official Brad Setser calling Trump's comments "lots of very loose talk on a subject where there shouldn't be loose talk." Though he often refinanced the debt on his own projects and forced creditors to take losses, doing so with U.S. debt would be difficult. It would involve issuing new bonds, most likely at higher interest rates, which would offset any gains from buying back old debt. It could also place the U.S.'s credit rating and its standing with investors at risk.
Read more: Trump Makes Dramatic Turnaround on Eliminating National Debt
Read more: How the Debt Ceiling Could Foil Trump Spending Plans -- QuickTake
Dollar
Between Trump's election and his inauguration, the U.S. dollar rose almost 5 percent against a basket of 10 major currencies. It was sent aloft by expectations that he'd cut corporate taxes, spend big money on infrastructure and ditch dozens of regulations. But the surging dollar clashes with Trump's other pledge to create millions of new jobs by reviving U.S. manufacturing. To do that, he needs the dollar to weaken to help exporters sell more of their goods abroad. In Trumpian fashion, he sought to jawbone the dollar down in a Wall Street Journal interview just before his inauguration, when he pronounced the dollar as "too strong." The dollar duly lost some of its value, but that could be temporary. If Trump heats up the economy with tax cuts and government spending, as he promises, the Fed may need to raise interest rates more aggressively than planned, attracting more dollar investors and driving the greenback ever higher. Even Trump can't jawbone capital back across the border, which is why presidents try to avoid talking about the currency.  
Read more: Strong Dollar as Article of Faith Questioned by Trump -- QuickTake
Read more: Mnuchin G-20 Debut Clouded as U.S. Unspools World Currency Pact
The Reference Shelf
Before it's here, it's on the Bloomberg Terminal.
LEARN MORE